Publishing 31 Jul 2011 06:45 pm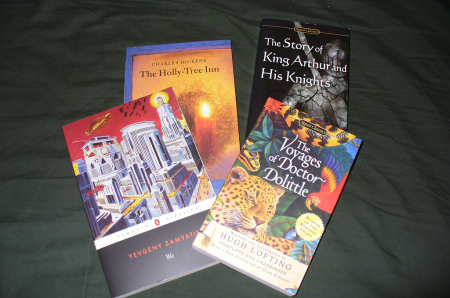 I stopped by a Borders this afternoon and bought what will probably be the last books I ever buy in a Borders store. There's a lot that can be said about a major bookstore chain going out of business, and little of it is optimistic. There's a case to be made that this is bad news for publishers, writers, readers, and even other booksellers — at least in the short term.
Still, I bought four books at the Borders I visited. Not out of any illusion that this would benefit anybody except the liquidators — it's too late for that now — but because I wanted those books, and a 20% discount is better than nothing. The sad truth is that since Borders is never coming out of bankruptcy, there's very little chance that any of the money I spent today will find its way to the publishers or authors. Admittedly, that's a bummer.
But reading can be an expensive hobby, especially if you like to own your own books. Cheap or free books are the fuel for many a book-a-week habit that could never be supported otherwise. And publishers and authors tend to be an understanding lot. Despite the apparent conflict of interest, I suspect most writers get as much of a kick out of seeing their book in a library as they do seeing it in a bookstore. (I know that I do.)
So head on out to your local Borders before it's gone forever. If you can get a good deal on Machine of Death, I hope you'll take advantage of it. If not, then there's always the free PDF or the local library. And you might find us cheaper on Amazon or Barnes & Noble anyway.
No one in the United States is in danger of losing access to books. The Internet makes it easier than ever for people everywhere to get their hands on books of all kinds, usually for a pretty reasonable price. But the number of people who no longer have a local bookstore is going to increase substantially when Borders closes its doors. So if you like bookstores, then I urge you to seek out whoever is selling books in your area — even if it's only Walmart. If you don't like the set-up or the selection, let the folks running the store know what it would take for you to shop there.
And, of course, keep your eye out in case anything comes along to replace those shuttered Borders stores. In the long term, this could be an opportunity for independent bookstores to reclaim some of their old turf. If that ends up happening, we should all be ready to give them the welcome they deserve.
Reader Mail 28 Jul 2011 12:17 am
Here comes another piece of mail we've received in exchange for a Death Prediction Card!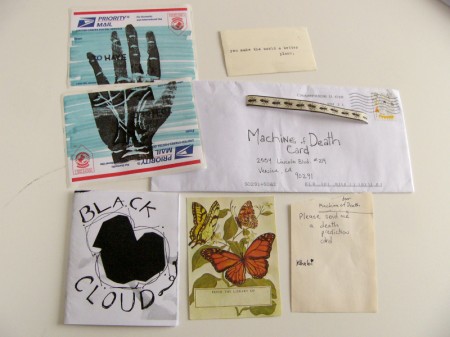 There's a lot going on here! We have:
Two mailing labels that together contain the image of a hand
A little strip of marching ants
A bookplate with pretty butterflies on it
A note saying "dear Machine of Death / Please send me a death prediction card / kthxbi"
A card saying "you make the world a better place."
A mysterious item labeled "Black Cloud"
On the reverse of the "you make the world a better place" card, we find: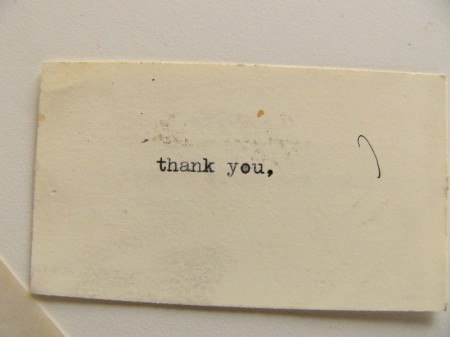 "thank you,"
Maybe this card was meant to be read with "Thank you" first, with "you make the world a better place" coming later. Maybe I made a mistake in arranging these photographs in the way I have. But let's move on from this fairly simple mystery to a far more interesting one.
"Black Cloud" turns out to be a book! We found we could open it and see more pages. Pages with images and words for us to think about.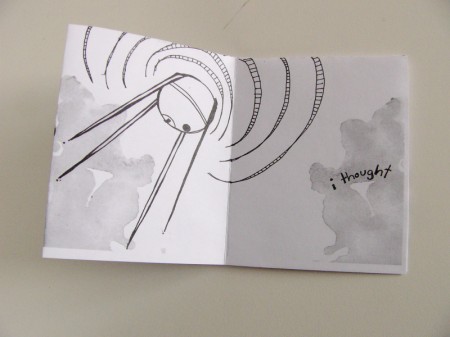 Black Cloud Pages 1 and 2: i thought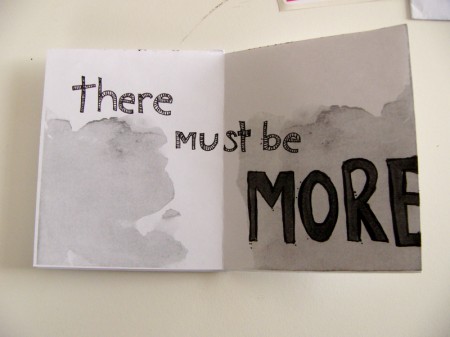 Black Cloud Pages 3 and 4: there must be MORE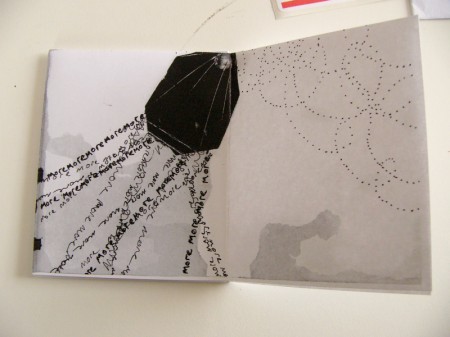 Black Cloud Pages 5 and 6: moremoremoremoremoremore… etc.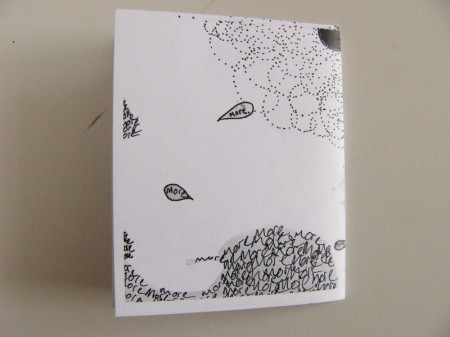 Black Cloud Page 7: More. More moremoremoremore etc.
So what does all this mean? I guess it means what you want it to mean. Or it means whatever the creator says it means. Since I haven't heard any explanation, I'm assuming it's about the frustration a person feels when, upon finally receiving some piece of knowledge or guidance, the knowledge doesn't live up to the person's anticipation. That's, um, that's just me. I'm the girl who thought Kafka stories were totally simple until we started arguing about them in 8th grade English, so I'm certain there's more room for interpretation here than my simple analysis allows.
ALSO: David and Ryan have just gotten back from a week at Comic-Con, so we should have updated submission data for your edification very soon — as well as winners of the Facebook contests! Stay tuned!
Vol2 Updates 17 Jul 2011 04:04 pm
A few hours ago, I got back from a camping trip in the Monongahela National Forest in West Virginia. I've been entirely off the grid for the past four days — the only news I've seen from the outside world was whatever was printed in the copy of Two-Lane Livin' ("Your Home Grown Guide to Simple Living") that we used to start camp fires. Needless to say, I saw a lot more about making apple butter than I did about the state of Machine of Death submissions.
When I left at the crack of dawn on Thursday morning, there were something like 850 submissions. When I got back a few hours ago, there were well over 1200. And I mean well over. When I got the final estimates from Ryan and David, I was pretty blown away. We'll share a final, clean number (as well as other interesting info) as soon as it's available. But for right now, everybody can take a couple deep breaths. You deserve them.
Clearly there were lots and lots of people who didn't want to miss out on being considered for the second volume, and that's amazing and flattering and humbling. It's a huge thrill for us to know that so many people want to be involved with a project we love so much! But although this is the finish for you guys, it's really the start for us. We want to give all these submissions the attention they deserve, so we've got a lot of work ahead of us. Fun, engaging, one-of-a-kind work that we wouldn't trade for anything… But, yes, still work. So how can you help us now?
Let your story speak for itself as it is! It's natural to want your story to be the best that it can be. But the deadline has passed, so we ask that you don't send us new versions with corrected typos. Just like everybody else, you worked very hard on your story. And just like everybody else, your story isn't perfect. We know that, and it's okay. It creates a lot of extra work for us if there are multiple versions of a story in our inbox. So please trust us to judge your story on its merits, and not on its proofreading.
Only query if you have reason to believe something has gone wrong. If you have reason to believe we haven't gotten your story (for instance, if your email program told you that your submission wasn't delivered) then please query us and we'll sort out what happened. But if you just want to double check, then we'd ask you first to take a couple more deep breaths. Ask yourself if you're querying about a real problem or just an imaginary fear. As much as we love hearing from our writers and fans, our time is better reading your stories and dealing with real problems.
A note about the auto-responder: We set up an auto-responder to send an automatic answer to every submission. A lot of people didn't get this response. That doesn't mean we didn't get your story — it probably just means the auto-responder was clogged up. We've checked up on several people so far who were concerned when they didn't get an auto-responder email. We had every single one of the stories safe and sound. So again, we ask that you only query if you have positive evidence that there might be a problem!
And please, be patient! The earliest that we'll be responding to anybody about the status of their story is October. If you don't hear anything before October 31 — that's totally normal. But if November 1 rolls around and you haven't heard anything… First, check your spam folder. Second, make sure you're checking the same email account that you provided us on your submission. Third, check this website for any updates in case we changed the notification deadline. If we have, then continue to be patient. In other words: please don't query about the status of your story until you are SURE that you should have heard something.
Check this website for new information. Folks have also been asking if the number of submissions we've received means that anything different might happen. We don't know yet! We haven't made any decisions — this just happened a couple days ago. But we will always update on this site if any of our plans change. So if you're curious about the future of Machine of Death, then please keep checking www.machineofdeath.net. There will be lots more to share with you over the coming months!
Keep the creativity flowing! We think it's amazing that so many people want to be involved with Machine of Death — and some folks have even been asking us if there will be a third volume. That's something else we don't know yet. We have lots and lots to do before we make that decision. But there are hundreds of other anthologies and magazines and websites all looking for submissions right now. Now that you've got your creative juices flowing — go find them! It makes waiting all the easier if you've got another project to be excited about in the meantime!
Vol2 Updates 16 Jul 2011 12:01 am
If this posts when it's supposed to, the deadline for Machine of Death 2 submissions will have just passed.
Thank you to everyone who submitted!

We're going to have a bunch more posts on where the submissions came from and tons of other really interesting stuff, but here's what we've got so far, early in the morning on the 15th of July:
over 1200 submissions!
over 2.2 MILLION words as of July 10th, which is like reading War and Peace four times in a row, and if we published all of them, enough to easily reach the #1 position on Wikipedia's List of Longest Novels
submissions from six of seven continents, and the missing seventh one is mostly covered in ice anyway
And these numbers are only going to get larger as we catch up on the submissions. The last few days have been crazy, with at one point 50 stories coming in during one five-minute period alone (and it wasn't even the deadline!) If you've submitted, you'll be hearing from us! We'll be reading these over the next few weeks and months, and we'll let everyone know sometime in October whether they've been accepted or not.
There's going to be tons more posted here over the next few days. But to everyone who submitted: you are awesome, and congratulations! You sat down and made a thing using only your imagination. That's not easy to do, and you totally pulled it off.