Monthly ArchiveMarch 2011
Events &merch 28 Mar 2011 04:38 pm
We decided to make some cool stuff.
Jump to: Death cards • Hardcovers • Talent show • Ebook pricing drop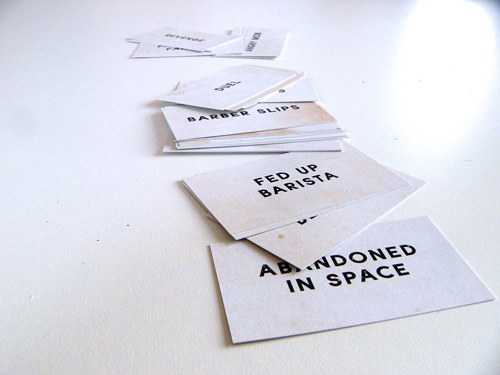 I read a great article today called "Less Talk, More Rock":
Go right from the inspiration — the vision — to actually making it. Don't think it through. Don't talk about it. Don't plan it. Dive in and start making it happen. If you do that — if you can start rocking — you'll get some momentum, and when you have some momentum then the project has a chance, because now you're into it.
I love this idea. I love it because it's how I've always done my best work, the stuff that has a spark of spontaneity to it.
I admit to being incredibly intimidated by the scale of what's going on with Machine of Death. I have tax paperwork on my desk right now for a company that I partially own that did not exist five months ago. We've passed far beyond what we'd ever thought was possible, so now it's a matter of figuring out next steps — or all of a dozen different next steps.
The tough part isn't just keeping those dozen balls juggling in the air; it's dealing with the perception that all of these balls are delicate rare eggs, and thus that any potential move has a million wrong moves for every right one.
The danger of this fear is that the eggs, rather than being juggled, might instead be passed from hand to hand slowly and carefully, with a lot of questions and discussion and hand-wringing first, with plans extensively written to someday throw some eggs into the air… and meanwhile the eggs sit there spoiling while the plan is being written.
This fear, this creeping, paralyzing fear, crawls into the back of my mind all the time. But the irony is that for all the energy spent on deliberation, everything that's the least bit interesting about Machine of Death is the stuff that we've just decided to do.
The Amazon campaign was conceived on a whim — heck, the entire book was conceived on a whim.
The carefully plotted print-media publicity strategy, however — which involved more effort and money than I care to discuss — took many weeks longer to get off the ground than anticipated. And by the time it did, nobody in the media cared about a book that, at that point, had been out for months.
Obviously there are a lot of factors involved, and the traditional media has a lot on its plate, and loads of books get overlooked in the best of circumstances. And who knows if it would have mattered anyway. The point is that, if you simply look at the stats, we have done far better by following whims than by executing carefully-planned strategies, for the simple reason that the strategies eat up time. Matt, Ryan and I love discussing ideas. And letting all the steam out of an idea by talking about it means it's harder to ever do it. Energy that could be channeled into action sometimes gets channeled instead into hand-wringing.
So we decided to just do some stuff. We now have a little money to play around with — not very much (we funneled most of our immediate profits back into printing more books), but since we all have other jobs and none of our mortgages are riding on this project, we want to play around a little, to buy ourselves a little adventure. Here's what we've done.

Death Prediction Cards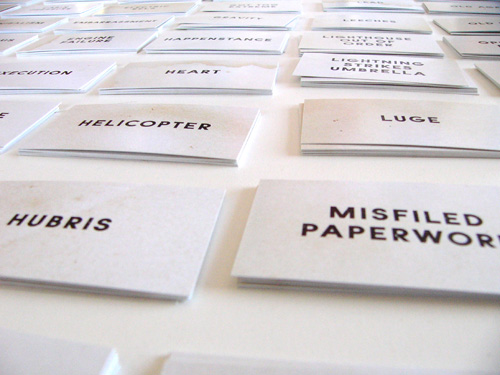 There are ninety-nine different ones. They all have a method of death printed on them. What are they useful for? I don't know. Bookmarks? Scoop up dog poop off the sidewalk? Flash it to a cop to get out of a speeding ticket? The choice is yours.
How do you get one? Simple:
• Buy something from TopatoCo. Anything at all. You can buy a copy of our book, or something from Wondermark or Dinosaur Comics, or anything else at all. The cheery TopatoCo staff are dropping individual random cards into all orders, while supplies last.
• Send a self-addressed stamped envelope to:
Machine of Death Card
2554 Lincoln Blvd #214
Venice, CA 90291
And all we ask is that you include something. A note, a poem, a drawing, a piece of grass from your town. If you're not in the US and don't have access to US postage, send a self-addressed envelope along with something worth about a dollar, and we'll call it even. We just want to see something from you. Call it a trade.
• Come see us in person. Anytime the official MOD blog or Facebook account mentions an appearance or signing, take it for granted that we'll have death cards there to give away. If you can't come in person, send a friend!
What are these cards good for? No idea. Why did we make them? Because it was cool.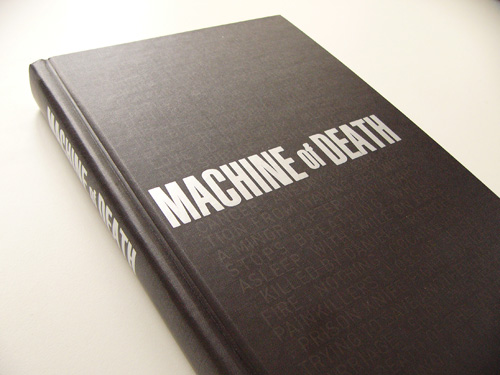 Speaking of cool! If you need a suggestion of something specific to buy from TopatoCo, this is our official answer.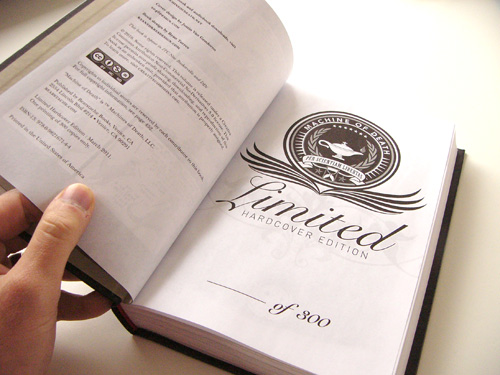 The Machine of Death Limited-Edition Hardcover has been printed in a strictly exclusive run of 300 copies. Update: which are all gone! The regular edition is still available though! The title is impressed with die-cut silver foil on the spine and cover, and all the titles of all the stories are printed subtly on the cover as well. The book has no other exterior text or branding. Every copy will be hand-numbered on the title page.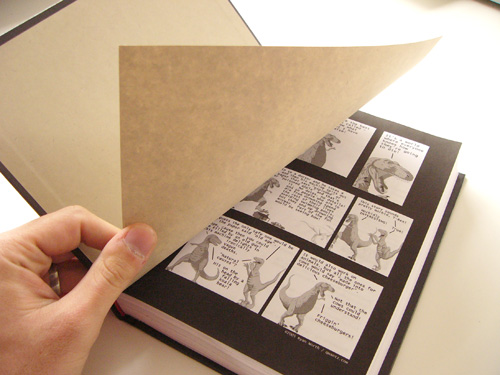 I personally have worked super hard on this book, obsessing over details like choosing the paper stock for the endpapers (FiberMark Multicolor® Espresso) to the color of the stitching of the internal spine (Blaze Red).
And because of the limited nature of this edition, we wanted to package it with something else special and unique — so I designed both a customizable Certificate of Predicted Death and an embroidered patch with a Machine of Death logo.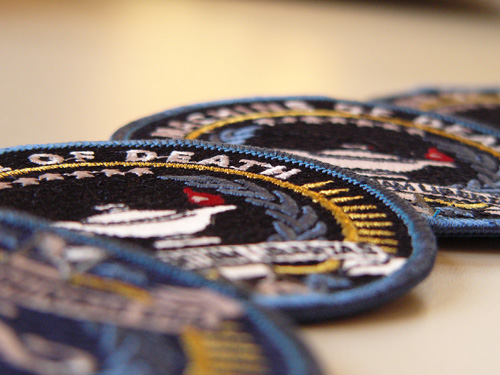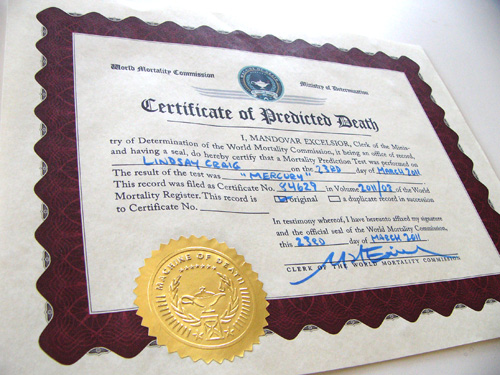 The seals on the certificate are created with a custom embosser. Why did I make a custom embosser with the MOD logo? I couldn't honestly think of a reason not to.
All three of these items — the numbered hardcover, the patch, and a customized certificate made out in your name — are bundled together as the MOD Collector's Set. They'll only be available while supplies last. So if you think these things are as cool as we do, you should buy them while you can! Update: They're all gone! The regular edition is still available though!
Machine of Death Collector's Set: Available right now at TopatoCo Sold out!

The Talent Show
Another thing I wanted to do was put on a show! We never had a real "release party" of any sort with MOD, because its release was so internet-centered — I guess you could call October 26 the Virtual Release Party. It was plenty fun, don't get me wrong! But I got it into my head to do something more tangible, something with a stage and an audience and, I don't know, snacks. So I'm going to!
On April 26, 2011, we'll be celebrating MOD's six-month birthday with a party and live comedy show. The show will be held in Los Angeles and will be free to attend. It will also be streamed live online, so everyone around the world can watch and participate live on Twitter.
The lineup of the event will include:
1. A live reading from MOD by Semi-Famous Person ?????

2. A game of MOD Pictionary featuring audience volunteers playing with Celebrity Cartoonists ????? and ?????

3. A comedy performance by Famed Improv-Troupe ?????

4. A talent show featuring you! Prizes will be awarded!

5. Multiple contributors will be in attendance to sign your books!

6. Finally, we'll close out the night with ?????, in which everybody present will go home with a ?????
The Talent Show is the part I'm most excited about — we want to put you up on stage and make your creativity part of the event! Just submit an audition of whatever you want to perform. Anything is allowable — a song, a performance, a reading, a dance, a video, you name it. The guidelines are:
• The act can be a maximum of five minutes in length (shorter, punchier = better)
• Related somehow to MOD or to the concept of a death prediction
• Performable in front of mixed company (no nudity, Nazi uniforms, or both)
• If you want to perform live, you must be willing to come to Los Angeles. Otherwise, we can show a video.
Send your audition (which, if you can't attend in L.A., will be the video we show) to: submit at machineofdeath dot net. A link to YouTube or Vimeo or something is fine. Video is strongly preferred, but audio is okay if it's a song or reading or something audio-only. Submissions that do not include a video or audio clip will not be considered.
Why submit an audition? Well, we'll be putting you on stage, in front of tons of other people and the internet, endorsing you with our brand, and if you're really good we'll ask you to be part of our regular lineup as we put together future shows. Plus the audience will vote on prizes to be awarded to all performers!
It's gonna be pretty cool.
The deadline for submitting an audition is April 18. That's not very long! Get going!

Ebook pricing drop
We mentioned this before, but we've dropped the price on all our ebooks from $9.99 to $5.99. This is a temporary drop between now and the talent show — this is so folks who'd like to perform in the show, but maybe who haven't read the book yet, can do so a little easier. To recap, we offer the following ebooks:
All $5.99, from now till April 26. So, if you have friends who'd be great on stage at our show, point them our way! We'd love to consider their audition.
And finally — thank you.
We do cool things like this because you think they're cool too. And we want to live in a world where doing cool things is enough — where following whims to make interesting things works. It only does when other people want to live in that world too: it's teamwork, it's a partnership between "I had an idea, hope you like it" and "I do like that idea! I want a part of it for myself!"
So we're doing our part, the first part. We aren't done yet, not by a long shot. But this is a first salvo. Hope you like it all.
Podcast Episodes 25 Mar 2011 04:08 pm
"MISCARRIAGE," by James L. Sutter. Read by Jonathan Shockley.
The second time the stick turned blue, it was intentional — they had good jobs, a car, a house, and a strong desire to take the next step. They'd surprised their parents with it on Mother's Day, and were immediately enveloped in a whirlwind of blue and pink, both grandmothers good-naturedly attempting to outdo each other with baby preparation. Ryan's father, the paragon of stoicism, had cried and hugged him, tears leaking out from behind Coke-bottle glasses. Annie glowed.
Download the MP3 • Subscribe on iTunes
Direct podcast feed: http://feeds.feedburner.com/machineofpodcast
James Lafond Sutter is the Fiction Editor for Paizo Publishing, creators of the Pathfinder Roleplaying Game. He is the award-winning author of numerous game products and short stories, and his fiction has appeared in such venues as Black Gate, Catastrophia, and Apex Magazine, as well as been translated into several languages. His anthology Before They Were Giants pairs the first stories of SF greats from William Gibson to China Miéville with new interviews and writing advice from the authors themselves. For more information, visit jameslsutter.com.
Jonathan Shockley is one-half of Travis and Jonathan, creators of the political comedy show Red State Update, a once-regular feature of Salon.com. Originally from Tennessee, he now lives in Los Angeles.
In the book, "MISCARRIAGE" is illustrated by Rene Engström!
Podcast Episodes 18 Mar 2011 01:32 pm
"PIANO," by Rafa Franco. Read by the author.
PIANO, man. Can you believe it? Friggin' PIANO. You know what the problem was? I did it when I was sixteen. Friggin' sixteen years old. You don't do that kind of thing when you're sixteen. You're not supposed to know the exact way you're gonna die when you're sixteen! You're supposed to be…friggin' skinning your knee playing street hockey! Reading comics! Getting laid! Not having a blood test to find out you're gonna die by PIANO!
Download the MP3 • Subscribe on iTunes
Direct podcast feed: http://feeds.feedburner.com/machineofpodcast
Rafa Franco was born on a wee town in Argentina about 27 years ago. Graphic designer by trade, he has had some art and a couple of articles published where you will never find them, and has managed to unwillingly produce some small-time freelance graphic design work. Like an idiot savant, he roams the muddy slime of mediocrity and has the common sense to let the occasional spark of creativity out to the world. If you feel like traveling fifteen thousand miles south to the city of La Plata near Buenos Aires, you may catch him starring in a play as a 70-year-old backwater whore. Or you can reach him at rfranco81 [at] yahoo.com. It's okay.
In the book, "PIANO" is illustrated by Kean Soo!
Ebook &Updates 16 Mar 2011 07:11 pm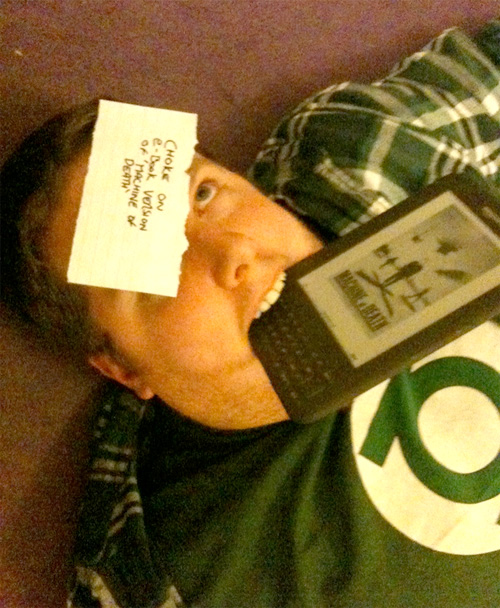 The online science-fiction magazine Strange Horizons has a wonderful review of our book up today. It has some very nice (and specific) things to say about many of our writers, including Camille Alexa, Tom Francis, John Chernega, Julia Wainwright, Jeff Stuatz, Erin McKean, Shaenon K. Garrity, J. Unrau, Jeffrey C. Wright, Daliso Chaponda, and David Malki !
I'm especially happy to see our book reviewed by Strange Horizons, as I made one of my first short story sales to them way back in 2003. Here's a short quote from the review that makes us blush every time we read it:
…This sort of Man vs. Fate dilemma has obsessed us since Sophocles, so it's not shocking to report that Machine of Death hooks you from page one. But where this collection could have been a one joke wonder or merely skated by on its own cleverness, it turns out to be a lot deeper than that. A lot more intelligent. A lot less predictable than its theme of inevitability would have you suppose…

If it's cheap, sadistic thrills you crave you'd do better to let Machine of Death alone and catch up on your Jersey Shore—but if you'd like to think as well as be mightily entertained, you're in the right place.
Also: All ebooks are now only $5.99!
In other news, some folks have already noticed that our ebooks are now cheaper than they used to be. We've temporarily dropped the prices on all of our ebooks from $9.99 to $5.99. The reason for the price drop is tied to the mysterious countdown that David announced a few days ago, but I'm not going to spill the beans about that yet. There will be more information coming on that very soon!
As a reminder, here are the current varieties of our (temporarily cheaper!) ebook:
You can also get the ebook on Goodreads and read it in their ereader. We're still waiting for Google Books to finish "processing" our file, but we hope that soon you'll be able to read it there too. EDIT: I almost forgot! As always, we still have the free PDF as well, but the price hasn't changed on that.
And some reasons to follow us on Facebook
We don't always post full blog posts when we have little snippets of news, but we do sometimes put them up on our Facebook page. Our Facebook fans recently got to see some glimpses of new things we've been working on like this and this. We also ask for feedback sometimes on how we can do things even more awesomely.
So visit our Facebook page and be sure to "like" us! We are likable people, at our core. It is nice of Facebook to notice this.
Podcast Episodes 08 Mar 2011 11:44 pm
"ANEURYSM," by Alexander Danner. Read by Kris Straub.
"It's a new party game," said Norma, as she pushed a small cart into the living room. The cart was draped with a white bed sheet, keeping the cart's burden hidden.  The guests all turned to watch as the little mystery wheeled into the room, squeaking slightly, leaving a visible groove in the carpet.  Norma stopped and stood; she made no move to uncover her secret, only smiled at the seven faces around her.  Every guest had a fresh drink in hand and a hot hors d'oeuvre on a toothpick.
Download the MP3 • Subscribe on iTunes
Direct podcast feed: http://feeds.feedburner.com/machineofpodcast
Alexander Danner writes and teaches comics. His most recent series is "Gingerbread Houses," a retelling of Hansel and Gretel illustrated by Edward J. Grug III. "Gingerbread Houses" and other fairy tales can be found at picturestorytheater.com. More of Danner's stories and experiments can also be found at twentysevenletters.com. He is co-author of the textbook Character Design for Graphic Novels, and he teaches Writing the Graphic Novel at Emerson College.
Kris Straub is the cartoonist behind the webcomic Chainsawsuit and the sci-fi humor saga Starslip. He's also co-author of the Harvey Award-nominated How To Make Webcomics, published by Image. Kris has lived in every city in America for at least one second. Hear more of his voice in Webcomics Weekly, Tweet Me Harder, and Blamimations.
In the book, "ANEURYSM" is illustrated by Dorothy Gambrell!