19 Mar 2013 07:09 pm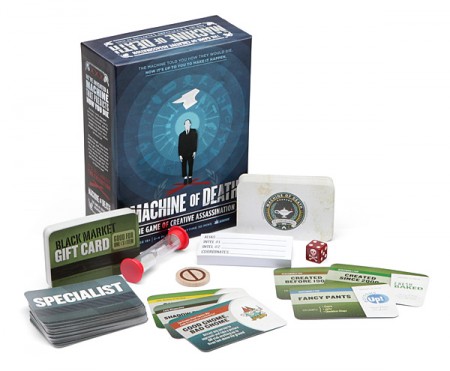 JUMP DIRECTLY TO:
Get the game • Download the game • Game videos • Timer Music
• Updates & Variants • Audiobook
We did a Kickstarter for a card game based on Machine of Death! Here's the pitch video that gives you an overview of the game:


Canadian retailers:


Print out the game at home, or just download the manual and cards to check 'em out! We've offered the game cards in both color and black & white versions, so you can choose how you want to print them.
In addition, we've sized the b&w versions for either US letter or European A4 pre-perforated business card templates, in case you want to use those! Otherwise, just trim the cards on the lines provided. Files for both fronts and backs of the cards are provided. Hopefully they line up when you print them!!

Full English edition torrent (Coming soon)
Full German edition torrent
Game manual PDF (spreads) — this tells you how to play!
Game manual PDF (single pages)

Game manual PDF (spreads)

Mission Book PDF — targets created by our Webcomics Pals!

Target Intel Sheets

— you'll want to print out some of these for use in making up your own targets and missions. You can also consult our fan-generated Intel Spreadsheet and pick a random target from there, or use the Web App Toolkit at intel.machineofdeath.net!

Target Intel Sheets
Machine of Death: The Game of Creative Assassination is released under a Creative Commons BY-NC-SA 4.0 license. This permits noncommercial sharing, remixing, adaptation, and distribution of the game and its contents, so long as attribution is given and derivations are released under the same license.
If you tinker with our game, we want to hear about it! Send us a note. Check out existing variants farther down this very page!

Here's a very quick summary of the game rules!

Here is our ALL-STAR PLAYTEST TEAM running a few rounds of the game! This will give you a good sense of the style of play. NOTE: The final published rules add another wrinkle (assigning difficulty) that isn't mentioned in these two.

Here's game creators Kris Straub and David Malki ! playing an INTERNATIONAL SKYPE GAME with Kickstarter backer Nateman! This shows the WHOLE GAME start to finish, including multiple assassinations. This video also has…JOKES

This is a video of tiny kittens romping around in a pile of Machine of Death game cards.

We encourage checking out these reviews to see if it's the kind of game you think you'll like! If it's not your kind of game, we don't want you to waste your money on it.
Badass Digest – "Kill And Laugh In MACHINE OF DEATH"
Mom@Play – "8 Reasons to Play Machine of Death"
Major Fun – "Machine of Death"
BoardGameGeek user – "Nothing In His Life Became Him Like the Leaving Of It"
BoardGameGeek user – "There's No Escaping This Machine"

We commissioned a bunch of 90-second timer music tracks, for you to optionally use when playing the game!
You can find the tracks below, and also at: intel.machineofdeath.net/music
To play a track at random, see: machineofdeath.net/button
Full MP3 album [15 tracks, 25MB zip file]
Full MP3 album torrent
All of this music is licensed Creative Commons BY-NC-SA. Feel free to share the MP3s!

• BoardGameGeek forum suggestions
• Earlier games we invented using a deck of death cards
Here is a new variant rule, explained! It's good for people who want to get to playing FAST and don't mind a little randomness guiding the story you're telling.
Game Audiobook
As promised in our Kickstarter campaign, we have created a COMPLETE AUDIOBOOK for your use. The audiobook is narrated by Kris Straub, with music by Kevin McLeod.
DEATH CARDS (19 min)

BLACK MARKET GIFT CARDS (17 min)

SPECIALIST CARDS (13 min)

INTEL CARDS (6 min)

Download all four tracks at Gumroad!
BEHIND THE SCENES OF THE AUDIOBOOK:
THIS PAGE LAST UPDATED: SEPT 29 2014