Events & Vol2 Updates 22 May 2013 01:41 am by David !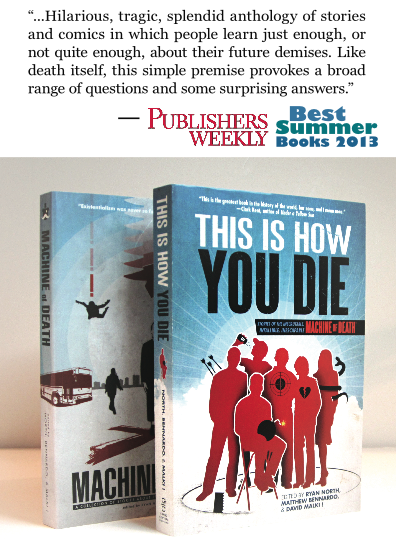 Oh man — This is How You Die (our upcoming Machine of Death sequel) was just named one of Publishers Weekly's Best Summer Books 2013! Hooray!!
It is now less than TWO MONTHS until the book is released. It'll be hitting bookstores across the U.S. and Canada on July 16, and to get it the very day it's released, you can now pre-order it on Amazon or the retailer of your choice.
But before that, we're throwing another party! On Sunday, June 2, you're invited to the This is How You Die x 826LA Comedy Night, featuring:
• MOD-themed improv comedy from iO West's The Lusty Horde!
From moment one of their opening chant, The Lusty Horde evoke the soul of sci-fi fantasy films once confined to late night television and the straight-to-VHS bin. Through the mysterious powers of the Horde, these long-lost worlds are released to wreak havoc in a fully improvised rampage of droids, ice beasts, and all manner of witches, warlocks, and witchlocks. Sound the Horn of Balfor, release the Drakon, and make calm the Robeasts. So sayeth the Elders. So sayeth the Lusty Horde.
• Machine of Death Draw & Guess with celebrity cartoonists Kevin McShane & Keith Knight!
• Music from Zach Sherwin, AKA MC Mr Napkins!
Zach Sherwin is a comedian and rapper based in Los Angeles. His music videos have been viewed millions of time online, his album is available on Comedy Central Records, and he has appeared on MTV, E!, and VH1, as well as at the prestigious Just For Laughs Comedy Festival in Montreal. He is also a staff writer for the blockbuster web series "Epic Rap Battles of History," which has racked up well over a billion views, and he frequently performs in the videos, having portrayed such characters as Albert Einstein, Sherlock Holmes, and Doc Brown.
• A demo of the upcoming MOD card game!
• All hosted by our pal Jordan Morris!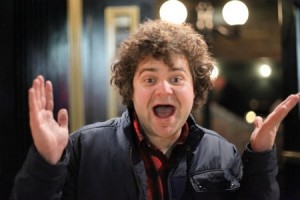 Why are we doing a pre-launch party when our book won't even be out yet?
Two reasons:
• MaxFunCon is that weekend, and if you're going to that, we'd love to have you at our show too! (Ours is the evening after MaxFunCon ends.)
• This is a benefit show for our good friends at 826LA! We'll be holding it at their Mar Vista Time Travel Mart, and all proceeds will go to support their nonprofit writing & tutoring center for kids. We'll also be making a formal presentation of a comically oversized $11,000 check as part of our Kickstarter partnership, and we'll have a door prize/raffle for some cool MOD and Time Travel Mart prizes too!
IN SUMMARY
WHEN: Sunday, June 2, starting at 8pm.
WHERE: Mar Vista Time Travel Mart, 12515 Venice Blvd, Los Angeles 90066. Ample street parking.
HOW MUCH: $10 at the door; includes a raffle ticket and free bonus MOD game cards. Also a death prediction test, if you want it!
THERE WILL ALSO BE: Drinks, merch, and additional raffle tickets for sale.
•• FACEBOOK INVITE for RSVP PURPOSES ••
All proceeds from the show will benefit 826LA. Hope to see you there!