Events & Talent Show 14 Apr 2011 02:54 pm by David !
Wow, what an incredible response we've had to the hardcover MOD collector's edition! We sold through the collector's sets in just a few days. Thanks so much — we really hope you enjoy them! So far you seem to be, as evidenced by:

• this beautiful picture from drmath
• this incredibly dramatic version from HootieD
• and this chilling glimpse of the future from maxelman
We've also had a great response to the free death card offer. Here are just a few of the letters we've received: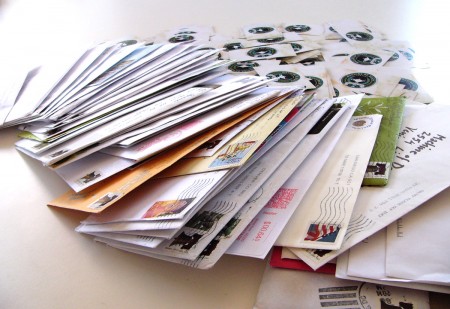 And don't worry, we will absolutely be sharing all the cool stuff we've received with you. But first, a word about the upcoming…
Talent Show
The Machine of Death Half-Birthday Party and Talent Show will be held April 26, at The Fake Gallery in Hollywood, CA. Doors open at 7:30 and the show starts at 8. We'd absolutely love for you to come to the show! But if you can't, we'll also be livestreaming the event right here on the blog.
Also here is a Facebook thing! Let us know if you're coming!
Due to taxes and stuff, we have decided to extend the deadline for submitting auditions until April 20. So you've got just under a week left to submit an act for the show.
What are we looking for?
It could be a song, a dance number, a reading, a poem, a video or animation or slideshow…anything you can do in under five minutes that's somehow MOD-related. We'll be putting the best acts on stage (or playing them on video), and we're even going to award a prize to the audience's favorite act!
There are a couple of bedrock, fundamental ideas behind Machine of Death. One is the most obvious: together, we can do great things. MOD-Day proved that.
There are also the questions about mortality raised by the premise of the book, which we all find pretty compelling.
But another is the notion of the value of the individual — the dozens of non-celebrities, non-famous people who wrote the great stories that we got to discover and share with the world. This is the basic promise of the Internet: the level playing field, the crumbling of barriers to entry, the chance for the little person to make a big impact.
In practice it doesn't always work out that way, of course. Most amateur work is pretty bad, and even a lot of professional work can be kind of stinky.
There's no shortcut to success — the only thing that gets you close is a persistent pursuit of fearless self-improvement. But, fine. What then?
What happens when there is something good?
There are a lot of answers to that question, but ours personally is "we give it a chance." The Talent Show is one of those chances. Make something cool, and we'll do whatever we can to show it to as many people as possible and reward you for it. That's all there is to it.
And if you can't make something cool — if you make something and it sucks to high heaven — for God's sake make it anyway. That is how you learn how to make something cool! By making sucky things long enough that you get all the suck out of your system. So don't worry about that. You'll get there. Do it anyway.
Like me:
Boom! And a Bear Comes Out from David Malki ! on Vimeo.
It just has to be better than this. THAT SHOULD NOT BE HARD.
…Seriously, anyone who's shared a table with me at a convention for the past year knows that the hook to this song has been running through my mind for a while now. But it's very rare that silly things like this ever crawl up the priority list to "DROP EVERYTHING AND DO THIS." This blog post was my excuse to finally finish the song.
I am hereby giving you the Talent Show as an excuse to do the awesome thing you've been waiting for a reason to do!
To submit an act for the Talent Show:
Email submit at machineofdeath dot net with a link (audio or video) of your act. If you are local to Los Angeles and would like to perform on stage if chosen, please specify that. If you would rather we play the video you send, please specify that!
The deadline to email is midnight Pacific time, April 20.
That is not much time! Get on it!
If you need inspiration, you can send away for a free Death Card, download our free PDF, buy our newly-discounted ebooks, or just go outside for a walk! Look at the trees. Try to find people in them. What are they saying to each other? To you?
The one outside my window is gently sighing in the wind: "piiizzzzzaaaaa"