Podcast Episodes 09 Nov 2010 04:05 pm by David !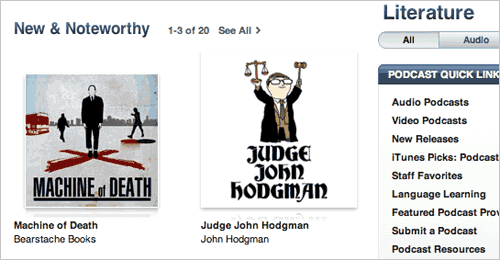 Hey! iTunes likes us! Neat!
"FUDGE," by Kit Yona. Read by the author.
As he watched, two girls in their early teens wheeled away from the front of the line. The shorter of the two was consumed by high-pitched giggles, but her wispy friend was ghost-white. As they moved past, the giggler took a deep breath and said, "Oh, Robin! Don't take it so seriously! It's probably not true!"

Rick watched and saw the other knuckle at her eyes. "But what if it is?" she said. "I can't believe he'd…" Then they drifted out of his earshot.

When he looked back at the corner, someone else was walking his way, a tall guy about his age. When he saw Rick staring he broke into a sheepish grin and shrugged, waving a slip of paper in a matter-of-fact way. "Fifth time I've taken the test, fifth time I've gotten this answer." His smile vanished, and his face clouded over. "Still not quite sure what it means, you know?" 
Download the MP3 • Subscribe on iTunes
Direct podcast feed: http://feeds.feedburner.com/machineofpodcast
Living deep in the savage lands known as the 'Dirty Jerz,' Kit Yona runs an auto salvage yard, adds income via poker whenever possible and plays rugby with an enthusiasm that far outstrips any athleticism he might believe he possesses. In his lack of spare time Kit edits and writes for the fantasy book review site The Griffin or the Agate to justify the time spent getting his Masters degree in English. He blames his appearance in this tome on his beautiful muse of a wife, Laura. He can be tormented/harassed/contacted at jydog1 at gmail dot com.
In the book, Kit's story is illustrated by Vera Brosgol!