Events 05 May 2011 06:34 pm by David !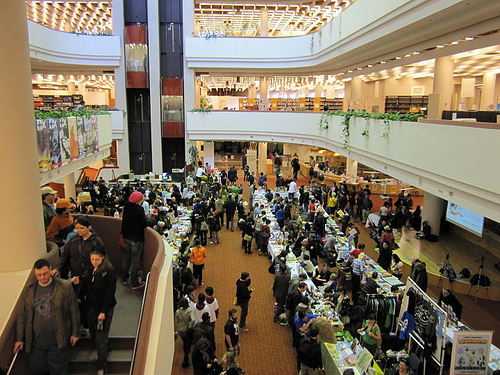 Flickr photo by Tundra Books
The Machine of Death carriage is rolling into Toronto this weekend! A whole host of contributors will be exhibiting at the Toronto Comic Arts Festival, held at the Reference Library in downtown Toronto. Print out this post and let it be your Official MOD/TCAF Checklist!!
Saturday May 7th, 9am-5pm / Sunday May 8th, 11am-5pm
Toronto Reference Library, 789 Yonge St. at Bloor
Free admission
TopatoCo MegaBooth 222-230 (2nd Floor)
Ryan North
David Malki !
Kate Beaton
Aaron Diaz
KC Green
Christopher Hastings
Transmission-X Special Annex (1st Floor)
Brian McLachlan
Ramón Pérez
Cameron Stewart
Booth 109 – Vera Brosgol
Booth 146 – Dylan Meconis
Booth 155 – Scott C.
Booth 244 – Danielle Corsetto
Booth 252 – Jess Fink
Booth 235 – Kean Soo
Also, on Saturday afternoon at 4:15, we'll be presenting a special live event! Machine of Death Draw & Guess will be a live Pictionary-type game featuring Kate, Aaron, KC and Hastings drawing death predictions. With pens, silly!
Due to venue restrictions it will not be livestreamed online, so come in person to check it out and enjoy the fun. We'll also be conducting free death predictions at the TopatoCo booth both days, so come on over.
and find out
how you will
you know
die