Updates 25 Oct 2010 03:43 pm by David !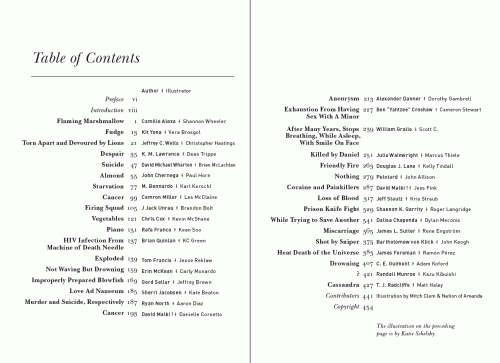 (click for a closer look at the full TOC, to see who's illustrated each story in the book)
• MOD on Reddit! I have upboated it.
• We're going to make the Kindle version available in the future; it won't be by tomorrow though. It won't have the illustrations, because the Kindle's screen will just ruin 75% of them, but it'll be the full text. Update: Working on solving this. We're going to make it a paid download like anything else in the Amazon store, but if you forward us your receipt from a purchase of the printed book we'll send you a Kindle-compatible file for free! (As soon as we finish formatting the file; might be a week or so.)
We can't necessarily make the same offer regarding every ebook format; there are just too many of them. If your Sony Reader or whatever can handle a .TXT file, though, great! Send us your receipt. We'll look into an ePub version too; I don't even know what that entails, but we'll try.
If you want to buy the printed book on Tuesday to support the effort, but do not actually want the book itself, feel free to have it sent to us. We'll donate any books we receive to libraries, schools, use them promotionally, etc.
Wondermark Enterprises
Attn: MOD
2554 Lincoln Blvd #214
Venice, CA 90291
Or, have it sent to a friend!
If you want to wait and buy the Kindle version once it goes on sale, that's cool too. We appreciate the support no matter what form it takes.
• Some folks have been asking for a preview of the book, or more information about the contents. Perfectly reasonable! Here are some of the MOD stories that're available online already:

"FLAMING MARSHMALLOW," by Camille Alexa, online in audio form in Escape Pod (under its original title, "Flaming Marshmallow and Other Deaths")

"EXPLODED," by Tom Francis. Posted by the author on Google Docs.
And here is the story "HIV INFECTION FROM MACHINE OF DEATH NEEDLE," by Brian Quinlan, in its entirety:
"Well," I thought, "that sucks."
In the book it is illustrated by KC Green.
• Who are these authors? A few biographical tidbits:
Many of the authors are working writers with extensive publishing credits: James L. Sutter, Tom Francis, Pelotard, and Jeff Stautz, to name a few.
This was Camille Alexa's first published story first story written and submitted anywhere. She has since gone on to an illustrious writing career; her short story collection Push of the Sky (which includes her MOD story) is a finalist for the Endeavour Award, given annually to Pacific Northwest authors of science fiction & fantasy.
Rafa Franco lives in Argentina; C. E. Guimont lives in Germany; Gord Sellar lives in South Korea; Pelotard lives in Sweden.
Daliso Chaponda is a Malawian stand-up comedian and writer currently based in the UK.
David Michael Wharton is an editor for Creative Screenwriting magazine.
Erin McKean is a lexicographer, former dictionary editor, and the founder of Wordnik.com.
Kit Yona runs an auto salvage yard in New Jersey.
Yahtzee Croshaw is the creator of the "Zero Punctuation" video-game reviews for The Escapist magazine.
Shaenon K. Garrity and Jeffrey Channing Wells, individual contributors, are also the collaborative authors of the comic strip Skin Horse.
Randall Munroe is the author of the webcomic xkcd.
• Our (free) audiobook will include the voice talents of many of the authors, plus Jesse Thorn, MC Frontalot, Zach Weiner, Lore Sjöberg, Dave Kellett, Kris Straub, Colleen AF Venable, Joel Watson, and one other secret person we're waiting to confirm. Yahtzee Croshaw reads his own story.
• The full PDF of the book will be made available next month — but we can share this preview with you now:
It's the first forty pages (several stories' worth) and it should give you a pretty decent sense of the quality of the book!
Thank you!