Events & Games & Vol2 Updates 19 Mar 2013 02:45 am by David !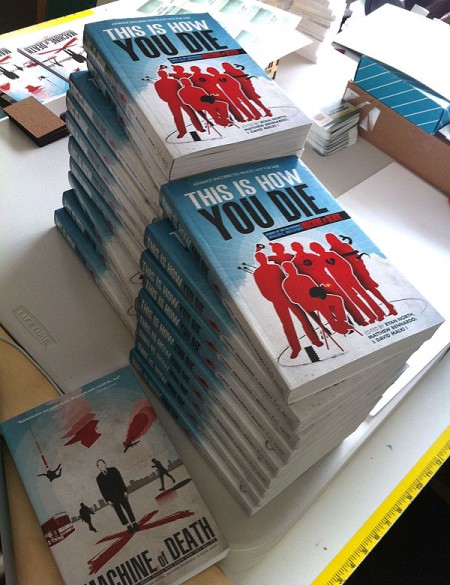 Today is the LAST DAY for our card game Kickstarter! To say it has done well is to make an absurd understatement. This game has now done, in pure power points (defined as revenue per unit over time), better than anything else we have ever done. And it's not even over yet! You can still pledge today and get a boatload of free bonus goodies.
Yes. We will bring AN ACTUAL BOAT TO YOU. Full of bonus goodies. Including the new Machine of Death Artbook — a book filled with all the art from both books, including statements from the contributors! Free to all backers in digital form, and free in physical form to all backers over $35. We were kidding about the boat but not about this book. It's gonna be pretty great!
But perhaps you have already pledged — or have already decided that it isn't for you! Fine. Here are a few OTHER ANNOUNCEMENTS that may be of interest.
More preview stories.
Thanks to the generosity of backers, we have released four more free preview stories from This is How You Die! (The first four previews are linked in this post.) Here are stories FIVE through EIGHT:
Preview story #5 — "TETRAPOD", by Rebecca Black
Preview story #6 — "LAZARUS REACTOR FISSION SEQUENCE", by Tom Francis
Preview story #7 — "BLUE FEVER", by Ada Hoffmann
Preview story #8 — "SCREAMING, CRYING, ALONE, AND AFRAID", by Daliso Chaponda
Read them! Enjoy them! Share them! Print them out and wallpaper your room. It's your day.
Save the date!
On SUNDAY, JUNE 2, we will be throwing a party (in the tradition of our Talent Show and Variety Show) at 826LA's Mar Vista Time Travel Mart in West Los Angeles! 826LA is a nonprofit writing & tutoring center for kids in elementary, middle, and high school, primarily serving underprivileged communities. Since MOD wouldn't be here without writers, we want to give back in a small way and hold a benefit event for the 826LA programs — all of which are free for the kids involved, and which rely on donations.
More information about this event will be forthcoming! In the meantime, if you're in the Los Angeles area, SAVE THE DATE for JUNE 2.
And check out our Kickstarter on its last day! If you're bored, read all the updates. They're pretty interesting.
Thanks to those of you who've pledged! We're very excited about the game and hope you are too!!