Monthly ArchiveOctober 2011
Challenges 18 Oct 2011 02:09 am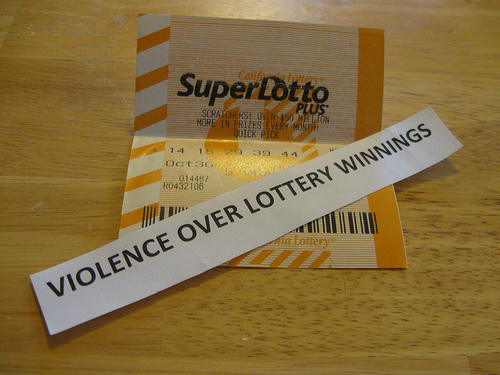 Flickr photo by Robynne Blume
Break out your cameras! I'm pleased to announce the MOD Evidence Photo Contest!
The rules are simple:
1. Take a photo that tells the story of a single MOD prediction. The prediction slip can be present in the photo, or not. People can be present, or not. But between the photo itself and its title, the viewer should be able to grasp the whole story. (Ironic twists are, of course, OK.)
2. Upload your picture! Join the new MOD Flickr Group, upload your entry, and tag it "modevidence".
3. Write something in the description — about you, about the photo, how you thought of the idea, where you took it, etc. I want this set to be fun for folks to browse and read!
4. REPEAT UNTIL CAMERA EXPLODES FROM OVERUSE
Photos will be JUDGED and PRIZES AWARDED. Scoring will be based on:
20% Idea/concept
30% Quality of photography
50% Overall creativity of execution (no pun intended)
+10% Extra credit for description
We will award at least one BEST IN SHOW award of $100 cash, and (depending on number of entries) we may award other prizes as well, if there are enough to break the field into categories. We will also show our favorites at the Super-Stupendous MOD Magic & Variety Show next month!
If you don't have a Flickr account, you can still enter the contest by emailing us your entry; we'll upload it for you. Send it to submit at machineofdeath dot net, with the subject line "Evidence Photo: [Some brief description]."
Put in an actual description, not the actual words "Some brief description", even though it would be a hilarious joke.
More Rules
1. You may enter as many times as you like. Collaborative entries are OK too.
2. Remember that part of the judging will be on photo quality, so webcam and cellphone shots will likely suffer on that score. Take as nice a picture as you can!
3. The use of photomanipulation is OK. We may award both a "best manipulated" and a "best naturalistic" award, depending on the number of entries.
4. You agree that by submitting a photo, we're allowed to repost it here on the MOD blog, or on TopatoCo. (You of course retain the copyright to it, unless you choose otherwise.)
5. The deadline to submit or upload photos will be the end of the day (midnight Pacific time) on Monday, November 7th. So you've got three weeks!
SIMULTANEOUS CONTEST ALERT
I am also holding a nearly identical photo contest over at Wondermark! You can also enter that one if you want to win another $100 cash prize.
The rules are all the same, except instead of an Evidence Photo, you must submit a Classy Wondermark Photo. This could be a photo with a piece of Wondermark merchandise, or a recreation of any single Wondermark panel. More details here.
The deadline and other guidelines are the same! This is what we call SYNERGY. Any questions? Leave a comment. Can't wait to see your photos!
Events 17 Oct 2011 03:44 am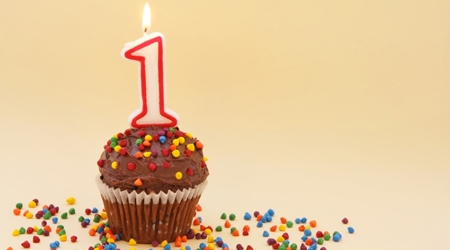 Can you believe it's been almost a year already?
Nearly six months ago, we held the Machine of Death Half-Birthday Party and Talent Show in Hollywood. We were delighted by the packed house — folks came from all over town to watch comedy, sing songs, deliver monologues, play games, listen to Jesse Thorn read Jeffrey Wells' story, and hear us announce that submissions were open for Volume 2.
It was a ton of fun! And person after person came up to me afterward, excited and feeling inspired and creative and ready to take that feeling with them into their own lives. That's great! That, of course, was the entire point!
Now we're going to do it again.
Not a talent show, not the same exact thing — something different, something amazing.
Please save the date for the…
Super-Stupendous Machine of Death Magic & Variety Show!
Once again, we'll be at The Fake Gallery in Hollywood, starting at 8pm, and streamed live online. The show will feature many things, some of which are still under development…but I can announce that there will be:
• A spectacular Machine of Death performance by master magician Pop Haydn!
• A sit-down talk-em-up conversation with Ryan (via Skype) and David, hosted by the incomparable Kris Straub!
• Games and such!
• Our birthday gift to you: We'll have a special Volume-2-related giveaway for all attendees that you will not want to miss!
• And once again, admission will be free!
It's gonna be great. How great? I'll leave you with this video of Pop Haydn, whom I had the pleasure of meeting earlier this year at a convention and who absolutely charmed me in every way. As soon as I met him, I thought "I gotta put on a magic show, just to have the pleasure of working with him." So by gum, that's what I'm doing — and I'm bringing my friends along too. (That's you!)
NOTE: We previously announced an October 26 date for the show, but it's now confirmed for November 17. We hope to see you there!
Games &merch 13 Oct 2011 11:48 pm
I made a graphic with (as best as I could manage) the titles of all 1,958 submissions to Machine of Death Volume 2. The bigger the text, the more common the title among the submissions.
Here's a closer look:
Here's a PDF (10MB) for an even closer look! Can you find yours?
The coolest thing about seeing all the titles laid out like this is the feeling of world that it evokes — knowing that these are all stories; that each title, no matter how strange, has an explanation, a set of characters for whom those few words mean everything… it's incredible. It's like looking at a map of a country you've never been to, and using the names of landmarks to imagine what it must be like. It feels real. And you are to thank for that.
The graphic is also available as a handsome poster print.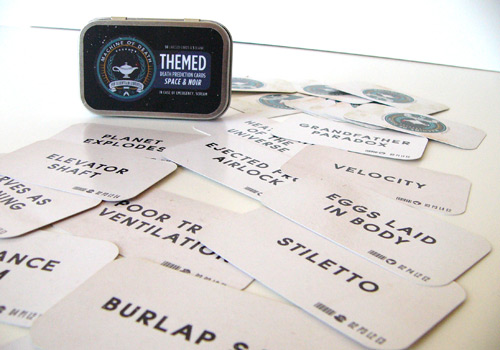 The MOD philosophy, so far as I'm concerned, is "don't worry about it — just make things that are interesting." SO FAR SO GOOD.
My favorite recent example are our Death Prediction Card Sets! There are several different themed sets, good for all sorts of different things. Our Card Games Rulebook is a good place to start!
Our diligent game testers have also been weighing in with feedback on the Game Forum — where we invite your feedback as well — and they've also been suggesting new and interesting games to play.
So I'd like to invite you to another game testing event, tomorrow afternoon, to try out some of the new games! Saturday, October 15, from 1pm till 3 or so, in West Los Angeles. And free pizza too!
If you'd like to attend, please RSVP in the comments and I'll send you directions. If you came last time and would like to come again, you're welcome to! We'll be playing mostly different games this time around.
Look at all these happy people that came to the last game testing events!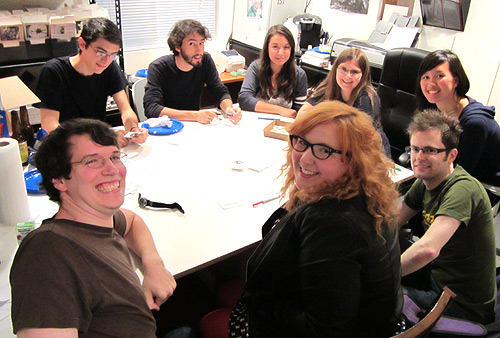 JUST LOOK AT THEM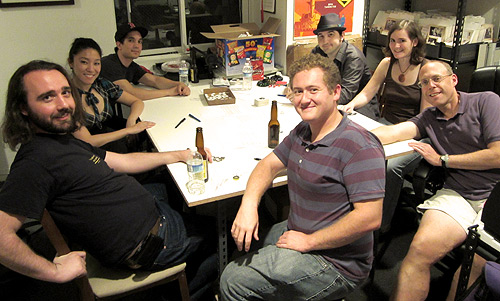 THEY
COULD BE YOU
Podcast Episodes 11 Oct 2011 08:03 pm
"CANCER," by David Malki !
Read by the author. (34 min)
James had seen the brightly-colored flyer in the mailbox, but hadn't given it much thought and had thrown it away with the supermarket coupons. So he was surprised to see it later, rescued from the trash can, its glossy color beaming from the fridge beneath a smiley-face magnet.
He plucked it down and had already begun to crumple it when Mom stopped him.

"Doesn't that look fun?" Mom said. "We're going to the one next week."

In garish red and yellow, the flyer announced that You, Too, could "Defeat the Machine!" A colorful cartoon hammer smashed a predictor box, starbursts flying out zanily. A beaming man in a tie beckoned to his new best friend, You. Bright blue type advertised an (800) number. Seats for the seminar were limited.
Download the MP3 • Subscribe on iTunes
Direct podcast feed: http://feeds.feedburner.com/machineofpodcast
David Malki ! is the author of the comic strip "Wondermark", a gag strip created entirely from 19th-Century woodcuts and engravings, AKA a collaboration with the dead. In 2009, the Wondermark collection Beards of our Forefathers was nominated for the Eisner Award — the highest honor in comics — for "Best Humor Publication." It's possible that this was a clerical error. His voice can also be heard on the podcast Tweet Me Harder.
In the book, "CANCER" is illustrated by Danielle Corsetto. This podcast episode was edited by Matt Schwartz.
Updates 11 Oct 2011 07:38 pm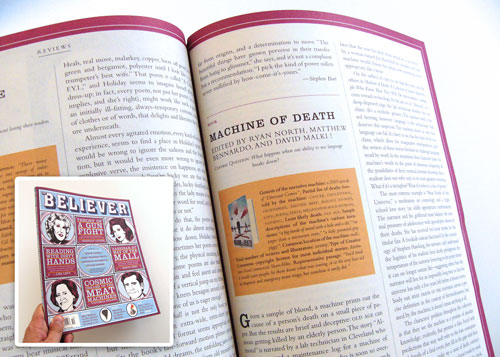 The October 2011 issue of The Believer features an extensive and fascinating review of Machine of Death, exploring the way that the machines in the book use language, in a very human and un-machinelike way, to toy with the humans themselves. The Believer doesn't post their reviews online, so I won't reprint it here, but here's a taste. If you happen to see the October issue on the newsstand, pick it up for its great interview with Steve Carell, or adaptation of the Victorian adventure tradition to the exploration of a shopping mall, and read the MOD review while you're at it!