Reader Mail & What is this I don't even 17 Aug 2010 04:24 pm by David !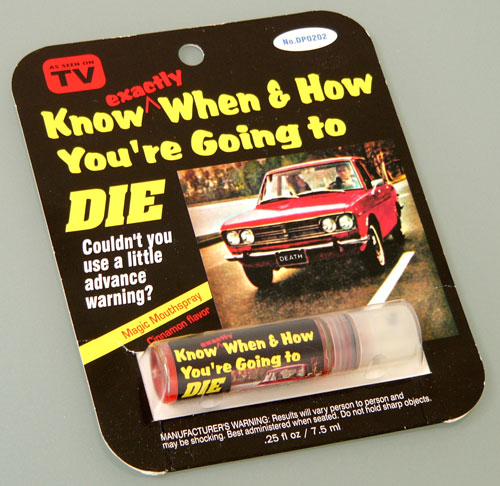 Machine of Death contributor Camille Alexa very kindly sent us this in the mail. It appears to be some sort of nozzle-bearing device that will predict your death.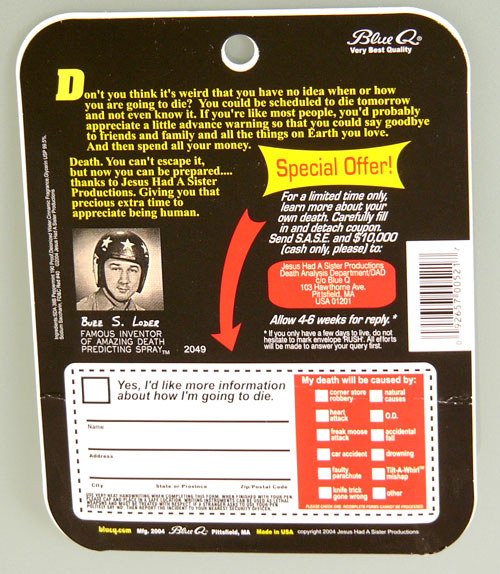 I am afraid we have no recourse but to lay down our arms and cede victory to its garish packaging and compact form factor. It is cheaper than our Machine and likely just as accurate.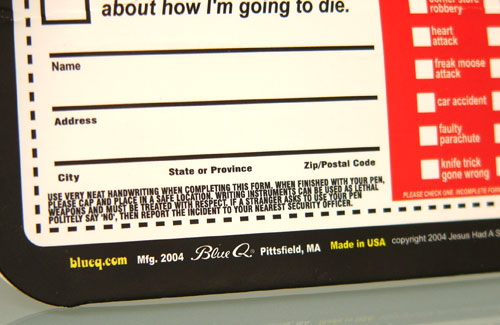 We have looked over this device and examined it from every angle. No explanation, no text, no illustration provides any answers whatsoever — simply more questions. Thanks, Camille. We will sleep uneasily tonight.
p.s. Only the ingredients listed on the back (SDA 38B Peppermint 190-Proof, Deionized Water, Cinnamic Fragrance, Glycerin USP 99.5%, Sodium Saccharin, FD&C Red #40) give any sort of hint whatsoever as to this thing's true nature, and even then — now that we've learned that this is a substance to be ingested — it seems more sinister even than before.
Full transcription of the text is after the cut.

AS SEEN ON TV – No. DP0202

Know (exactly) When & How You're Going to DIE

Couldn't you use a little advance warning?

[Car's license plate reads 'DEATH']

Magic Mouthspray – Cinnamon flavor

MANUFACTURER'S WARNING: Results will vary person to person and may be shocking. Best administered when seated. Do not hold sharp objects.

[back]

Blue Q® – Very Best Quality

Don't you think it's weird that you have no idea when or how you are going to die? You could be scheduled to die tomorrow and not even know it. If you're like most people, you'd probably appreciate a little advance warning so that you could say goodbye to friends and family and all the things on Earth you love. And then spend all your money.

Death. You can't escape it, but now you can be prepared…. thanks to Jesus Had A Sister Productions. Giving you that precious extra time to appreciate being human.

[Photo caption] Buzz S. Loder – FAMOUS INVENTOR OF AMAZING DEATH PREDICTING SPRAY™

Special Offer! For a limited time only, learn more about your death. Carefully fill out and detach coupon. Send S.A.S.E. and $10,000 (cash only, please) to:

Jesus Had A Sister Productions
Death Analysis Department/DAD
c/o Blue Q
103 Hawthorne Ave.
Pittsfield. MA
USA 01201

Allow 4-6 weeks for reply.*

* If you only have a few days to live, do not hesitate to mark envelope 'RUSH'. All efforts will be made to answer your query first.

[Coupon] Yes, I'd like more information about how I'm going to die. My death will be caused by:
_ corner store robbery
_ natural causes
_ heart attack
_ O.D.
_ freak moose attack
_ accidental fall
_ car accident
_ drowning
_ faulty parachute
_ Tilt-A Whirl™ mishap
_ knife trick gone wrong
_ other
PLEASE CHECK ONE. INCOMPLETE FORMS CANNOT BE PROCESSED.

USE VERY NEAT HANDWRITING WHEN COMPLETING THIS FORM. WHEN FINISHED WITH YOUR PEN, PLEASE CAP AND PLACE IN A SAFE LOCATION. WRITING INSTRUMENTS CAN BE USED AS LETHAL WEAPONS AND MUST BE TREATED WITH RESPECT. IF A STRANGER ASKS TO USE YOUR PEN POLITELY SAY 'NO', THEN REPORT THE INCIDENT TO YOUR NEAREST SECURITY OFFICER.