Ebook & Publishing 10 Feb 2011 04:24 pm by David !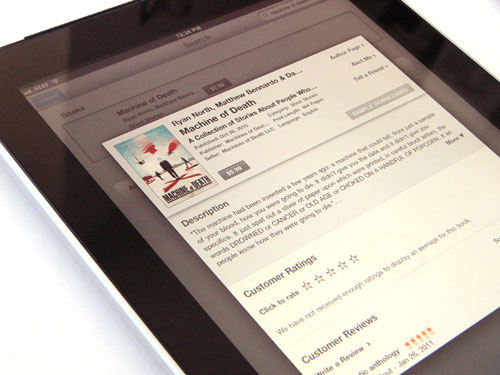 Machine of Death is now available in Apple's iBooks! You can search for it in the iBooks app on your iPad/iPhone/iPod Touch, or here's a browser link (caution: the link will ask you to launch iTunes).
When everything exploded for us back in October, we were approached by not only print publishers, but also audio- and ebook publishers. We've explained already how we turned down inquiries from larger publishers for reprint rights to the book, and since we had planned all along to create a free podcast of our book, as well as give away the free PDF, that torpedoed any chances to partner with any professional audio- or ebook publisher as well. They would have insisted on exclusivity, which we weren't willing to provide.
So, after hearing loud and clear from you that you'd like a Kindle version of MOD, we started looking into publishing ebooks ourselves. This was before we'd even released the free PDF, so the genie was still technically in the bottle — and we heard from ebook publishers and distributors warning us what we'd be missing out on by turning down their terms.
"We reach thousands of ebook sales partners," they said. "Even if you do a Kindle version yourself, that's only one of thousands of sales channels."
"Are there really thousands of ebook sales channels?" we responded. "Why have we never heard of any but about five?"
Ultimately, we decided that while there might be thousands of ebook sales channels, we only cared about a couple of them, and we could manage a couple of them on our own. We ended negotiations with ebook companies, released our PDF, and looked into selling ebooks of our own in the few sales channels that make up the majority of the market.
Which ebook marketplace is doing the best?
Kindle versions have been our biggest sellers by far. I tried to find some survey data on the Kindle's market share: last August an Amazon spokesman claimed they had 70 to 80 percent of the ebook market; those numbers were then challenged by publishing industry professionals who assigned Amazon 61%, followed by 20% for B&N's Nook, and single-digits for everyone else.
The study reported results from very early in the iPad's existence, so the landscape has surely shifted by now — in fact, Apple claimed 22% of the ebook market share as long ago as June 2010. The numbers get another crunch here with this startling opinion:
Several Publishers confirmed earlier this year and at the end of last year that Amazon had around 90% market share… The likeliest possibility is that not only did Amazon manage to sell Kindles it also managed to get a large chunk of iPad owners' ebook purchases via Kindle for iPad.
Let's see if our (limited, so far) experiences agree.
A breakdown by ebook platform
These are numbers from January 2011 — so the October blitz and the subsequent holiday season aren't included. It's still not a huge sample size, but it's the closest to "typical" we've probably got so far.
Although Amazon announced last month that it's now selling 115 ebooks for every 100 print books, we've still mainly sold print books — in January, at least 74% of all copies of Machine of Death sold were print books, and we know that number is low because it doesn't include Canadian or all retail-store sales. We do, however, have accurate numbers on ebook sales:
• Kindle sales accounted for 84.5% of all ebook sales in January
• Nook sales accounted for 10.4% of all ebook sales in January
• The remaining 5% were mainly ePub sales through our site, although a few iBooks sales are recorded there too (the iBooks version only went live at the very end of January).
We abandoned our Kobo application after hearing of Borders' financial troubles. We also have submitted our file to Google's new ebooks program, but thanks to a hilarious comedy of errors that could only be resolved by us mailing them a CD-ROM (what year is this?) we are currently still "processing."
This is only one data point, but the breakdown seems to be roughly shared among at least one other author who's been kind enough to share his own experience:
Now, I'm not James Patterson, but I have sold several thousand copies of my e-books this year, and they are available at Amazon, B&N, Kobo, and Apple (also Sony, but too recently for me to have reliable sales data). And my figures back up Amazon's; in fact, I sell more than 75% of my e-books through Amazon. Source: David Derrico
Advantages of a broad approach
We're happy we took the reins into our own hands and didn't bother paying an ebook distributor a commission to get us into 997 other ebook portals — I doubt any few increased sales would have covered what we'd lose to the commission. As long as there are a few market leaders, it's easy for us to make most everybody happy: most of you who read ebooks have Kindles, but if you have a Nook or iPad, we've got you covered too. The Stranger's Paul Constant also points out some advantages to the ePub format on the Sony Reader, and we're happy to sell you a DRM-free ePub if you want one.
It'll be interesting to watch over time if our ebook sales climb (or print sales decline) to move more toward parity with Amazon's overall ebooks-vs-print-books ratio. Of course, that ratio is aggregate; it doesn't address individual books. Maybe they're selling 115 copies of every hardcore-erotica ebook for one each of every 100 detective novels.
Maybe —
maybe what we need to publish next is a hardcore detective erotic e-novel