Updates 21 Oct 2010 10:02 pm by David !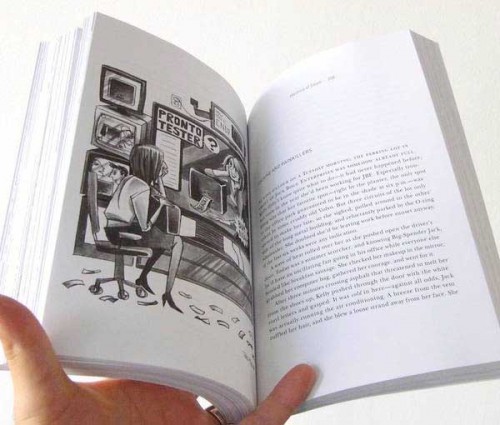 Super-excited to hear that everyone else is as excited as we are about our October 26 campaign! Here are the answers to some questions we've fielded today:
• Will you be offering a Kindle version?
Ideally yes! Since hearing many requests for a Kindle version over the last few days, we've gotten to work putting that together. Depending on how long the Amazon approval process takes for that, we'll let you know whether to expect it by Tuesday.
While we're happy to offer that version for folks who don't want to deal with a physical book for any of a million great reasons, it should be said that Amazon treats a Kindle book as an entirely separate product from the printed book. Thus, buying the Kindle version doesn't contribute to the main flash-mob campaign. If we can get a secondary campaign going for the Kindle version, great, that'd be amazing! But we're also a little concerned about splitting the effort.
Here's an idea we had, and you guys tell us if it's dumb: if we made the Kindle version 100% free, would people be willing to buy a print copy as well, strictly to help out the campaign and chalk up the maximum number of sales for the paperback? You could have the books shipped directly to us, and we would donate those copies to libraries and schools — so you'd never have to deal with a book you didn't want, or pay shipping to someplace expensive. Leave us a comment with your thoughts on this idea.
To clarify, there'd be absolutely no obligation for folks to buy a print copy; the Kindle version would just be free for anyone who wanted to read the book that way.
The other option would be to just charge a regular amount for the Kindle version and make that another sales option. And of course all this is predicated on a Kindle version being approved by Amazon in time.
Also I just realized that I don't even know if you can make a Kindle book free in the Amazon store. So much to learn!
• Will the book appear on Amazon.ca / co.uk / other non-American sites?
At present time, we have no way of getting it onto the international sites; each territory requires a separate distribution agreement and for the time being, that's beyond our scope. Additionally, buying from international sites wouldn't contribute to the main campaign because it's a different product as far as Amazon is concerned.
You can buy from Amazon.com for shipping to foreign addresses, but we know shipping sometimes becomes a headache. It's a less-than-ideal situation, we know, but it's what we have to work with for the moment. The book will be available through our own e-store, shipping worldwide, starting in November.
• What time specifically should we focus our sales on? In which time zone?
The more concentrated the sales, the better, but beyond a certain point that's impossible to manage. Let's just say roughly the period of business hours in North America.
So for Europeans, that's afternoon and evening on the 26th; for Australians, New Zealanders, and others in that region it'd be early morning to afternoon on the 27th. But anywhere in that ballpark is totally fine!
More questions? Ask 'em in the comments!