Vol2 Updates & What is this I don't even 18 Jul 2013 01:34 am by David !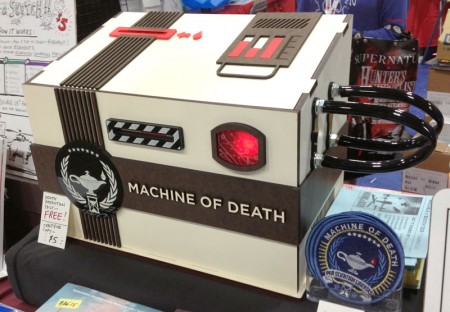 Jason Lioi of Dapper Devil is a man who owns a laser cutter. (Two, actually.) And he built this for me. It's at our booth at the San Diego Comic-Con right now!!
It goes together like so:
So I see no reason why this thing would ever not be present anyplace we go from here on out. If you're in San Diego, come by booth #1229 and find out how you're going to die!
We'll also be signing copies of This Is How You Die on Friday morning, 11am, at the Hachette booth (#1116):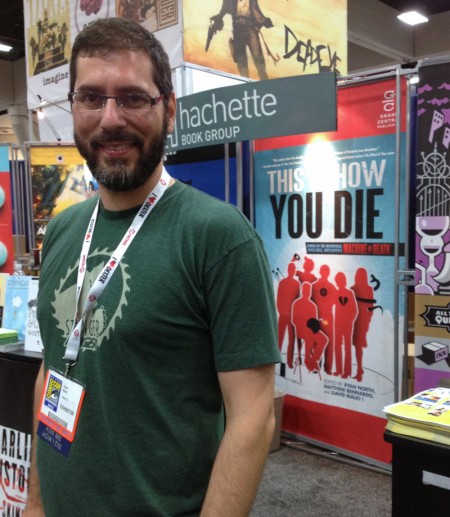 They made one of those big banners for us and everything! SWEET
Here's a full SCAVENGER HUNT list of who will be signing either TIHYD or MOD books at Comic-Con (you can download this checklist as a PDF if you want to print it out):
First one to get 'em all wins a hearty handshake of friendship.
OTHER COOL STUFF:
• Another free preview story has been posted! "SHIV SENA RIOT", by Ryan Estrada, is about a MOD call-center operative in India who's never gotten a prediction of her own. It's posted in full over at Wired today.
• Very kind mentions of TIHYD by Cory Doctorow and Brandon Sanderson today as well!
• I've posted some photos of the first prototype of the MOD card game! These images are from the manufacturer — I hope to have the actual prototype in my hand in just a few days.
• Our TIYHD short film was just named a Vimeo Staff Pick! Kudos to Mike Mohan, John Lang, and the crew that made that thing so spectacular.
It's so amazing to see the outpouring of support for the book! If you're still on the fence or haven't remembered to grab it yet, we only have TWO DAYS LEFT for sales to count toward our NYT bestseller effort. Don't wait! Grab it on Amazon, or from your favorite retailer.
If you have already picked up the book, thank you so much! Leave us a comment on Amazon or elsewhere so others know what you thought!
TWO DAYS LEFT…TWO DAYS LEFT…and then, VICTORY (presumably). We'll see!