19 Mar 2013 07:09 pm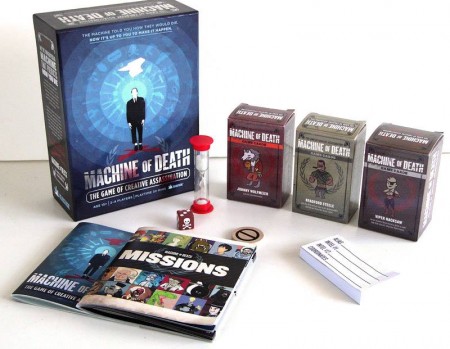 We did a Kickstarter for a card game based on Machine of Death! Here's the pitch video that gives you an overview of the game:
The campaign was a tremendous success and now we're very close to being able to make the game available to the general public! Here are some GOOD THINGS TO KNOW:
are a good place to check for any recent news!
• Get the Game
If you missed the Kickstarter and would still like to get the game or any of the non-exclusive extra goodies, you can do so FROM:
– machineofdeath.bigcartel.com (Direct from us!)
– Amazon.com (This is a famous website)
– ThinkGeek.com (Pair it with a USB toaster)
– Paizo.com (Pair it with Pathfinder minis)
If you'd like an email to let you know about any updates regarding the game's availability and wider release, just fill out this form and we'll email you if we have any news! (We won't use your email for any other purpose.)
• Game Manual Downloads
• Gameplay Videos
Full Game Session With Lots of Jokes
Quick Version Of The Rules
• Reviews of the Game
Badass Digest – "Kill And Laugh In MACHINE OF DEATH"
Mom@Play – "8 Reasons to Play Machine of Death"
Major Fun – "Machine of Death"
BoardGameGeek – "Nothing In His Life Became Him Like the Leaving Of It"
BoardGameGeek – "There's No Escaping This Machine"
I encourage checking out these reviews to see if it's the kind of game you think you'll like! If it's not your kind of game, I don't want you to waste your money on it.
• Timer Music Downloads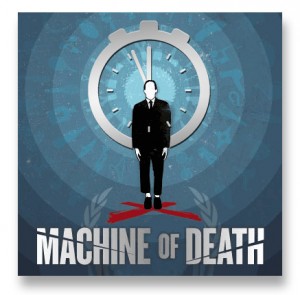 We commissioned a bunch of 90-second timer music tracks, for you to optionally use when playing the game!
You can find the tracks below, and also at: intel.machineofdeath.net/music
To play a track at random, see: machineofdeath.net/button
Download the Full MP3 album [15 tracks, 25MB zip file]
All of this music is licensed Creative Commons BY-NC-SA. Feel free to share the MP3s!