19 Mar 2013 07:09 pm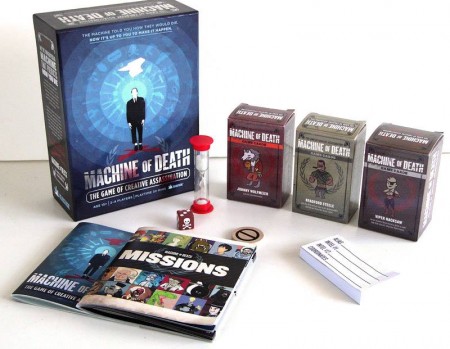 We did a Kickstarter for a card game based on Machine of Death! Here's the pitch video that gives you an overview of the game:
The campaign was a tremendous success and now we're hard at work finishing the game! Here are some GOOD THINGS TO KNOW:
are a good place to check for any recent news!
• Game Pre-Orders
If you missed the Kickstarter and would still like to get the game or any of the non-exclusive extra goodies, you can do so once it goes up for regular retail sale! This will be AFTER all the Kickstarter and other pre-orders have been fulfilled, which will be in January 2014.
If you'd like an email to let you know when it's ready — which will probably be in January or February — just fill out this form and we'll email you at that time! (We won't use your email for any other purpose.)
• Game Manual Downloads
• Timer Music Downloads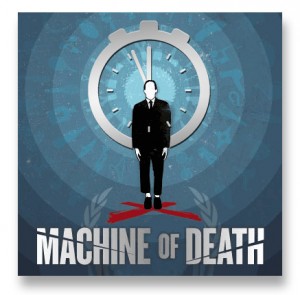 We commissioned a bunch of 90-second timer music tracks, for you to optionally use when playing the game!
You can find the tracks below, and also at: intel.machineofdeath.net/music
To play a track at random, see: machineofdeath.net/button
Download the Full MP3 album [15 tracks, 25MB zip file]
All of this music is licensed Creative Commons BY-NC-SA. Feel free to share the MP3s!
• Game Production Status Updates
Check back often, or feel free to ask @malki any specific questions. Here is our current WORK IN PROGRESS CHART. You can also check machineofdeath.net/status for up-to-date information on our shipping progress.
The orange items are things that need to be sent to print with the main game — these are all finished, and the games are in transit to our shipping warehouse now. The items marked "waiting" need something else to be finished before they can be begun. The column labeled "baking" represents any process that takes place between us finishing creating the item and it being able to be delivered to you — i.e. cards being printed, audio files being mastered, goats being raised, etc.
"All done" means that the thing is printed or created, and in some cases, that we have the finished thing in our hands (actually or metaphorically). "Delivered" means that you have it in your hands. Every time we update a row, we'll update the date. An old date means we're still in that same progress square for that particular item.
THIS PAGE LAST UPDATED: JANUARY 7 2014