09 Sep 2011 03:28 pm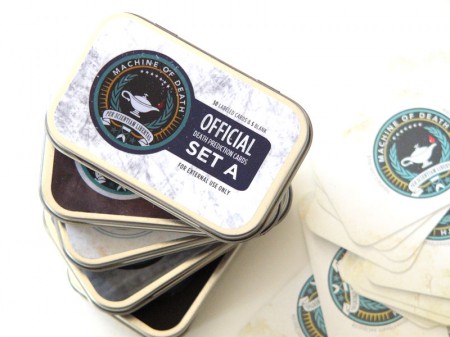 We firmly believe that our Machine of Death Prediction Card Sets have millions of uses (and double that if you do them all over with your opposite hand). Below are a few of our favorites.
Do you have an idea for an amazing Machine of Death card game? What about a maybe-okay Machine of Death card game? Or, played these games and have thoughts or feedback? Or just want to check out some other rulesets that're still undergoing testing? For ALL THESE THINGS, check out our new forum!
"Thin Ice" (3 or more players) Added 10/13/11
Thin Ice is a party ice-breaker game, and is a good way to get new players familiar with the Machine of Death Prediction Cards. The best thing about hosting a party on thin ice is that nobody gets the chance to hang around too long. We're all in this together!



"Psychopath" (4 or more players) Revised rules 3/25/12
Psychopath is a card-connecting game similar to Apples to Apples. It's a crazy world out there, and as they say, "If you can't beat 'em, join 'em!"



"Think Tank" (3 or more players) Revised rules 3/25/12
Think Tank is an original alphabet-based literary game. Some folks still remember a time when this city was home to honest, hardworking folks. Sure, there's still hard work being done, but it ain't particularly honest. These days, this town's got all the kindness of a rabid dog, and half the charm. Perfect for a private eye.



"Last Words" (2 or more players) Added 3/25/12
A variant of the game "Last Word" that's similar to Think Tank, above. (Submitted by Nika on the forum!)



"Hitman on a Budget" (3 or more players) Revised rules 3/25/12
Hitman on a Budget is a dice-based role-playing game in the tradition of Dungeons and Dragons. Times are tough. The economy is down, prices are up, but if you're in the business of trying to whack people, well, times just got a little easier. The new Machine of Death practically hand-delivers the perfect way to knock off any target. The problem now? Getting the weapons to do it.



"Memento Mori" (3 or more players)
Memento Mori is a group drawing game in the tradition of Telephone or Exquisite Corpse. Lo, the Arts! What nobler profession is there among men? (firefighting) And what more universal muse is there than the ever-looming prospect of death? (sexiness) In the tradition of those most morbid of medieval artists, you must seek to convey a meditation on death to your neighbor, who, in the tradition of all artists, will steal it.




"Tabloid" (3 or more players) Revised rules 9/15/11
Tabloid is a group debating game, similar to the electoral process in the United States. It's not enough these days for the tabloids just to report on a celebrity death. With the new Machine of Death, the gossip-rags are now expected to predict your favorite stars' demise! But why pay staff to actually research when you can just wildly speculate? That's the tabloid way!


"Duelogy" (4 or more players) Revised rules 3/25/12
Duelogy is a fast-talking party-style guessing game, in the tradition of Taboo or Celebrity. Eulogies are awkward things. You don't want to say too little, but can't say too much. They're especially awkward when the funeral director schedules two services in the same time slot! Your task is to convey the grisly details of your imaginary friend's demise without saying those key words that will set off his/her mother.