Reader Mail 05 Oct 2011 11:33 am by Robynne
Here's a bit of fun:
Hi!

About a month ago I woke up on a friend's couch after a big night out – we were having an afterparty for a roller derby bout we played in, and the place was serving this drink called a TVR, which I'd never heard of before. It's Tequila Vodka Redbull, and it is pretty well guarunteed to make any event more energetic. Anyway I woke up in the wrong team uniform, with a business card down my top, what was (probably) cake dried in my hair, a phone number with the words "If lost please call" written across my chest, and this pin braided into my fringe. Apparently I bought it at an all night games parlour after losing badly at air hockey and declaring the need to buy the winner a trophy. Then, I'm told, I won it back while playing pool and hitting a passer-by in the head with the white ball. By accident, I mean.

Anyway, I love the book and am looking forward to the next one. Enjoy my trophy!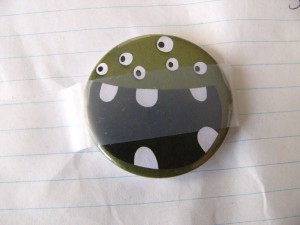 This creature sure looks happy, despite having more eyes than teeth!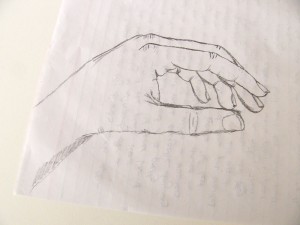 The letter included a postscript that read:
PS There's also a drawing of my hand on the back. I'm trying to learn how to draw but so far hands are the only thing I can manage.
In my experience, hands are very difficult to draw, so if you are good at them then you've already got a leg up!
Take it easy on the TVRs. I know someone who woke up knowing how she was going to die, and her life was never the same.
More pictures on our Flickr page! More reader mail blog posts here! Or, send us something yourself!