Monthly ArchiveOctober 2011
Vol2 Updates 08 Oct 2011 11:16 am
October is upon us, and that means that our deadlines for decisions about which stories will be included in Machine of Death are fast approaching.
Just a refresher: We received almost TWO THOUSAND submissions for this book, totalling MILLIONS upon MILLIONS of words. We're reading as fast as we can, but we're going to need everybody to be patient a little while longer yet.
We still plan to make our final selections this month, but we'll probably be doing it right at the October 31 deadline. So set your expectations to hear some news at the end of October. Artists: It may take somewhat longer for us to notify you, as we'll have to match illustrators with specific stories.
Also, I hate to say this, but it's already clear that there are going to be lots of strong stories we can't include in the book. Not only do we have three times as many stories to pick from this time, but the pool we have to pick from is much more diverse and of very high quality. We have some really tough decisions ahead of us to whittle this field down to 30 – 35 finalists.
Thanks to everyone who participated. On the behalf of all of us, however, I want to thank everybody who took the time to write a story for Machine of Death. By the time we finish reading all the submissions for Volume 2, we'll have read over 2,600 stories about a machine that predicts how people die on the basis of a blood test.
Most folks would think that means we'll have read 2,600 stories about the same thing. But, with your incredible creativity, you've proven that perception dead wrong. These stories aren't all about the same thing. They're about all different kinds of things, and it's a honor to be able to read them. If nothing else, you all have proven that there are at least a few thousand ways to turn an idea into a story. Thanks for letting us be a part of that!
And what else have you been up to? Back in July, I gave you all the mission of keeping your creativity flowing and participating in other creative projects. (See the last paragraph in this blog post.) It's been two and a half months now… So how are you all doing with that mission?
Personally, I've been submitting stories to other magazines and anthologies. These are the first submissions I've made in several years, and even though the most likely result is rejection (unfortunately, that's always the most likely result), it feels good to know that I'm trying. My new goal is to always have at least one story under consideration somewhere.
David and Ryan have been up to some amazing creative stuff recently as well. We don't like to clutter this blog with other stuff we're working on, but following any of us on Twitter is a good way to keep up to date or even to ask any of us what's up. The links are over in the right hand column. (Those Twitter accounts are definitely not all self-promotion. We try to be funny and informative, too!)
But this is the time for some self-promotion from you guys. Let us know in the comments how you've been keeping yourself busy while you wait until October 31 too. Whether you have some good news about stories that will be published or self-published elsewhere, or whether you've simply set goals for yourself in terms of productivity and creativity. Either way, tell us what's going on!
And if you haven't been doing anything since submitting to Machine of Death, I hope you'll start! There are lots and lots of ways to be creative, but it does take at least a little effort to get the ball rolling!
Reader Mail 05 Oct 2011 11:33 am
Here's a bit of fun:
Hi!

About a month ago I woke up on a friend's couch after a big night out – we were having an afterparty for a roller derby bout we played in, and the place was serving this drink called a TVR, which I'd never heard of before. It's Tequila Vodka Redbull, and it is pretty well guarunteed to make any event more energetic. Anyway I woke up in the wrong team uniform, with a business card down my top, what was (probably) cake dried in my hair, a phone number with the words "If lost please call" written across my chest, and this pin braided into my fringe. Apparently I bought it at an all night games parlour after losing badly at air hockey and declaring the need to buy the winner a trophy. Then, I'm told, I won it back while playing pool and hitting a passer-by in the head with the white ball. By accident, I mean.

Anyway, I love the book and am looking forward to the next one. Enjoy my trophy!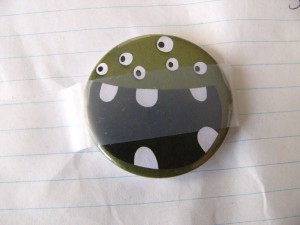 This creature sure looks happy, despite having more eyes than teeth!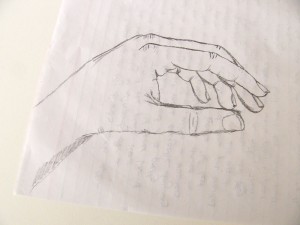 The letter included a postscript that read:
PS There's also a drawing of my hand on the back. I'm trying to learn how to draw but so far hands are the only thing I can manage.
In my experience, hands are very difficult to draw, so if you are good at them then you've already got a leg up!
Take it easy on the TVRs. I know someone who woke up knowing how she was going to die, and her life was never the same.
More pictures on our Flickr page! More reader mail blog posts here! Or, send us something yourself!
Podcast Episodes 04 Oct 2011 11:47 pm
"SHOT BY SNIPER," by Bartholomew von Klick.
Read by Christopher Osborn. (9 min)
A shot kicked up dirt in front of Grale's face. He pulled himself backward, back to the dubious protection of the fallen sign.

A sniper.

Across the street from the fallen billboard, Grale's men looked at him, pasty-faced and wide-eyed. One of the men — Simmons — signed for him to stay put. No shit.

They all knew Grale would die here. God damn that machine.
Download the MP3 • Subscribe on iTunes
Direct podcast feed: http://feeds.feedburner.com/machineofpodcast
Bartholomew von Klick lives beneath a bridge in Missouri, emerging only to collect a toll from passers-by. He sometimes mutters about all the things he would like to eat, but has not yet been able to kill. He has thirty-six cats, and a beautiful wife who rises from the grave every night to hunt and bring him snacks from the orphanage.
Christopher Osborn is a web developer by day, and asleep by night. He is the author of the short story collection Easily-Distracted Tales and several stageplays, including Lumberknight: The Francophone Protocol.
In the book, "SHOT BY SNIPER" is illustrated by John Keogh. This podcast episode was edited by Matt Schwartz.