Monthly ArchiveOctober 2011
Vol2 Updates 31 Oct 2011 08:29 am
A little while ago, David put up a quick update about where we are with our story decisions. There weren't a whole lot of details in the post, which caused some folks to speculate about what's going on. David is recovering from the post-convention haze of World Fantasy Con, so I figured I'd fill in some of the gaps.
Expect a response in the next week. We hope to email everybody over the next several days — the sooner, the better. I expect that the bulk of emails will go out by Friday, but some decisions may take just a little bit longer.
Some folks have been speculating that it's taking us longer to reply because we're writing personal responses to everybody. This would be an amazing thing to do! But sadly, that's not what's causing the delay. You should expect to get a form response. We are trying to add a little extra detail to some of the form responses, but unfortunately none of them will really be personalized.
At this time, we are still making decisions. Some people were speculating that everybody who's been accepted has already been contacted. This isn't true. We are still making final decisions and sending out acceptances. This is the part that's taking a while, so there's no reason to assume that the response is one way or another until you actually hear from us.
What's taking so long anyway? There are a few things that are contributing to the delay, but mostly it's because we have so many great stories to pick from. Here's a little insight into what we've been doing for the past few months.
1. First, we've read your stories! We laughed, we cried, we were delighted. But there were so many that not all of us were able to read every single one. I'm still catching up on a few stories that Ryan and David have marked as their favorites but which I haven't read yet. They are both also doing the same. So there is a small amount of second and third reading being done, but luckily the list of contenders is (by this time) pretty manageable.
2. Second, even for the hundreds of stories that all three of us have read, we don't always agree. In fact, we often disagree. Imagine if you and two of your friends had to take a list of 2,000 movies and agree on which 30 were the best. You'd probably easily agree on broadly which ones you liked… But when it got down to the nitty gritty of the top 1%, your different tastes would come out. So this is what we're doing right now: arguing about which of the stories we like are the absolute best ones. Just think, at this moment, one of us may be making a passionate argument in favor of your story. This is actually happening!
3. Finally, in addition to picking the best stories, we have to consider variety too. There's another dimension to our decision-making, which is that we want a broad range of stories in the book — different genres, different viewpoints, different settings. So we find ourselves sometimes diving back into the pile of contenders to pick out stories that have qualities that may be otherwise underrepresented. This balancing act is a pretty complicated calculus, and it's taking longer than we thought.
Whew! So that's what's going on with us. One of the things that this experience has taught me is that a rejection from a publication doesn't always mean that your story isn't good. A book edited solely by Ryan would be different from a book edited solely by David or a book edited solely by me. Different editors love different kinds of stories — just like different readers love different kinds of stories. Because that's what we really are: we're readers.
When we publish the table of contents for volume two, it's not going to be a list of the "best" stories out of the 2,000 submissions we got. It's going to be a list of about 30 stories that we think make a great book together — a book that we're going to love reading and we hope other people will love reading too. For many, many, many stories that we don't accept, there is some other hypothetical book that we decided not to publish that they would be perfect for. So keep that in mind if we decide not to go with your story.
Why don't you publish all those other hypothetical books too? One thing at a time! We've talked about whether there's something else we can do with some of the stories that won't fit into volume two, but we haven't made any decisions yet. We have some fun ideas, but first we have to finish what we're working on now.
We also don't want people to get sick of Machine of Death. That's why we're not publishing a book with 200 stories in it. (Also, it would be super expensive.) But if readers keep clamoring for more and more stories, then we certainly have a lot of material we can consider again. But this is all in the distant future of six to twelve months from now, and we may have a whole new set of ideas in that time. We want to keep doing awesome stuff whenever we can, but we don't know exactly what shape it will take.
Anyway, thanks again to everybody who submitted. We'll be contacting you as quickly as we can with the results!
Vol2 Updates 30 Oct 2011 10:44 pm
We know many of you are very anxious to see which stories will be in the next MOD book. For a variety of reasons, we don't want to publicly announce a Table of Contents for Volume 2 until we have had a chance to email everybody who submitted. With 2,000 submissions, this is taking a bit longer than initially expected.
Apologies for the delay, but we do expect to have contacted everybody by the end of the week. Please hold off querying us until at least then. In the meantime, read this and this!
Events 27 Oct 2011 02:06 pm
At the World Fantasy Con in San Diego, volunteers spent yesterday assembling promotional giveaway packages for each of the 1200 registered members of the convention. Largely publishing professionals, each member will come away with a "gift bag" of books, courtesy of publishers eager to get influential eyeballs on their titles.
This "bag" must be the size of a garbage bag and fifty times as strong. I am curious to know what exact form this package will take! Will registration staff also be handing out luggage carts to cart away the booty?
I mention it because if you're attending World Fantasy this weekend, dig deep in your gift bag and keep an eye out for this: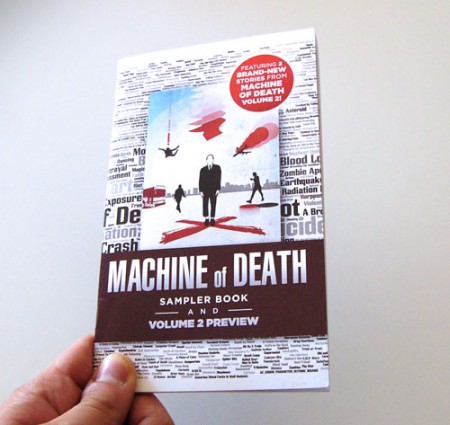 This 52-page booklet features info about Machine of Death (which, if you're reading this post, you probably already know about, but not everyone at the con will) as well as a preview of two stories from Volume 2.
I'll be at the convention myself, and hope to meet you there! I won't have a table, but I'll be at the autograph session on Friday afternoon, and I'm also on a panel:
Sunday, 10AM: Intellectual Property Rights vs. the Free Web

Does information really want to be free? Do the people who say that still think so once they've been published? Generational differences in attitudes toward information and its effects.

Justin Ackroyd, David Chanoch, Jeff Conner, Ashley Grayson (M), David Malki !
I find it interesting that "generational differences" as a factor is called out right in the panel description. Are old folks by definition curmudgeons about Those Blasted Internets? Are young folks cool and hip and culture-savvy and with-the-flow, riding their skateboards with their backwards caps? WE SHALL SEE, on Sunday!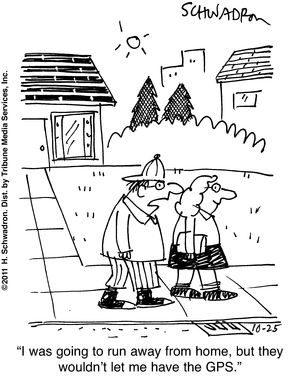 Able chronicler of generational differences Harley Schwadron
I also hope to spend some time asking folks their opinion of the giveaway bags. Is this a viable way for publishers to promote new titles, or just a thing that they feel they have to do because everybody else does? THE DEFINITIVE ANSWER: FORTHCOMING.
You will also be able to pick up a sampler booklet next weekend, November 5-6, at the Minneapolis Indie Expo! Matt will be representing MOD and signing books along with MOD frontispiece illustrator Katie Sekelsky. (Did you know that Katie also sells prints of her drawing?)
IN CONCLUSION: THESE THINGS ARE GOOD
Fan art &Vol2 Updates 26 Oct 2011 12:49 am
I know everybody is super excited and champing at the bit for Volume 2 announcements. Well guess what! There are none in this post. (But it won't be much longer!)
A FEW IMPORTANT TIDBITS while you wait:
Regarding the title cloud of Volume 2 submissions. Some folks have become worried because they can't find their title. Regardless, in all likelihood, we did receive your story. Generating the cloud required wrangling data through four different programs, and some slippage through the cracks is regrettable but inevitable. (I have you covered, though! On the poster version I included a little blank for you to write in your title, if you found that it was accidentally omitted.)
So while I tried my very best, the cloud is unfortunately not one hundred percent comprehensive, and the blame for that falls on me. I apologize! But don't worry — if your title's missing, you're in good company. Here's another dude whose story title is not in the word cloud: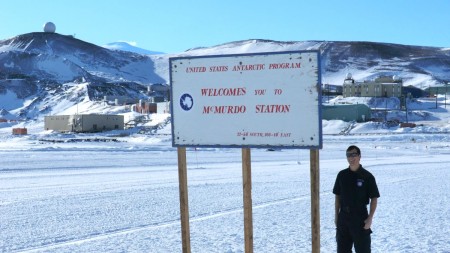 Who is that? Why it's only ERIK ZIMMERMAN
WHO JUST SENT US A STORY
FROM ANTARCTICA
Erik, a globetrotting firefighter, had also previously sent us a submission from Afghanistan, which was awesome, but this… this quite frankly fulfills our lifelong dream.
Erik's story (appropriately titled "FULFILLING A LIFELONG DREAM") was quite a late submission to MOD2, but we have unanimously voted to amend our submission guidelines to accept all late submissions if they come from Antarctica. Thanks so much, Erik!
Also, it turns out that one of the stories that was submitted earlier got double counted by mistake, so we're still at 1,958 total submissions. IT ALL WORKS OUT.
NEXT ITEM. Reader C.S. Markle, organizer of the Perth, Australia branch of 24-Hour Comics Day this year, used MOD as his group's theme! As you may know, 24-Hour Comics Day is when folks undertake the challenge of writing and drawing a complete 24-page comic in 24 hours. C.S. prepared MOD predictions for each participant to use as prompts for their comics!
We think this is a fantastic idea. One of the completed comics has posted online by its author already — you can read the entire thing here, and the author discusses the work in a Reddit thread here.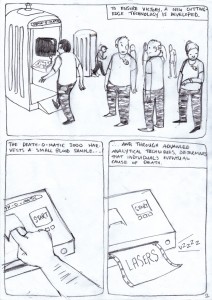 A note about fan art
Lots of folks have expressed interest in creating their own Machine of Death-themed projects of various types, and we couldn't be more excited to hear it! We've been incredibly honored to see folks make films, stage plays, and generate art of all sorts.
Because we get the inquiry a lot, though, it's probably best to clarify our stance on fan art for the record. Since (most of) the individual stories in the book — as well as the introduction — are covered by a Creative Commons license, you should absolutely feel free to create noncommercial MOD adaptations of your own so long as you follow the guidelines of the license, i.e. provide attribution and release the resulting work under the same or a similar license. You can also feel free to quote from the book's introduction if you like.
Here is an easy way to do it above board! Just include the following disclaimer:
Inspired by the "Machine of Death" concept created by Ryan North. This independent adaptation was created under the MOD Fan Art License and is not officially affiliated with Machine of Death. For more information, visit machineofdeath.net.
If you choose to release your work under a Creative Commons Attribution-NonCommercial license, we'll be happy to feature your work on a Fan Art page here on the MOD site — just contact us! Hooray!
I should also clarify that this covers noncommercial adaptations only. School assignments, stuff for fun, blog posts etc. all qualify. If you're interested in any commercial use of the MOD concept — basically anything that might make a profit — contact us so we can steer you in the right direction. Thanks!
Podcast Episodes 22 Oct 2011 06:44 pm
"KILLED BY DANIEL," by Julia Wainwright.
Read by Timothy Volpert. (22 min)
He got the results in April, and his first thought was that he had no idea what to do with them. For a while, he kept the little slip of paper hidden at the back of a desk drawer at work, still inside its official envelope. He didn't want it in the house — Phil was bound to ferret it out. Phil wouldn't even have to try, bless him; he was just one of those people who found things. 

He'd thrown away all the other stuff that had been in there, all the leaflets about counselling and help-lines and support groups and whatnot. Everything seemed to be full of leaflets these days. It was like the Sunday papers: you always had to give them a proper shaking over the coffee table before you read them, otherwise hundreds of shiny advertisements would be likely to slither out and attack you.
 
After three weeks, Robin took the slip of paper out of his desk drawer and burnt it in the wastepaper bin.
Download the MP3 • Subscribe on iTunes
Direct podcast feed: http://feeds.feedburner.com/machineofpodcast
Julia Wainwright lives in Suffolk, England, where she writes stuff, makes things, and grows 0.1 percent of her own food. She's just happy to be here. Julia can be reached at juliacw at ntlworld.com.
Timothy Volpert is a poet and musician from Topeka, Kansas. His latest collection of poetry is Their Memories, Your Orchard OR The Worried Courier and Other Stories.
In the book, "KILLED BY DANIEL" is illustrated by Marcus Parcus. This podcast episode was edited by Matt Schwartz.