Monthly ArchiveNovember 2010
Updates 24 Nov 2010 12:02 am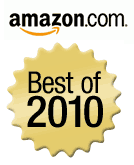 Hey look at this! We have made it onto an Amazon "Best Books of 2010" list (Customer Favorites, Sci-Fi & Fantasy)! Hurrah!
We don't want to be disingenuous here — this is not an editorially-curated selection. According to the Amazon page, this particular subcategory is a list of "the bestselling science fiction and fantasy at Amazon.com during 2010. (Ranked according to customer orders through October.)" So discerning Amazon editors have not peered over their glasses to rest laurels upon our little book; it's purely a sales metric.
But let us put that another way:
We were one of Amazon's top ten best-selling sci-fi/fantasy books of 2010 (at least through October).
Oh and BY THE WAY here is a new review by author (and well-respected anthologist in his own right) Jeff VanderMeer on Omnivoracious, the official Amazon books blog. This is an Amazon editor's opinion:
Personally, I found Machine of Death a lively, self-assured, and diverse read…This is DIY publishing at its best, and a perfect example of the way in which creative, clever editors can use to their advantage the new leveling of hierarchies, existence of more accessible means of distribution, and diversity of ways to make a project visible to readers.

But, when it comes down to it, you have to have the quality to back up the hype. You have to bring the heat, and Machine of Death does bring the heat. Not only that — it showcases a lot of talented writers you might not have encountered before. I know I have a few more "check out their other work" names after reading the anthology.
When Jeff contacted us for a review copy, days after we reached Amazon #1 and while we were still tittering about Glenn Beck, he indicated that he wanted to cover the actual book itself, rather than the furor around it. We're glad he did and double-glad he enjoyed it! After all, we like it too.
For US retailers and bookstores who would like to stock Machine of Death: It is now available through PGW/Perseus. I am told this is the information you need:
ISBN 978-0-98216712-0
Pubnet SAN number 631760X
orders: orderentry@perseusbooks.com
KABAM there you go.
Here's a new interview with us by Chris Sims at Comics Alliance:
DM!: Picture this: someone on the East Coast hears the show. They comment on the blog. I tweet about it, and as Glenn Beck's show is panning across the continent with the sun, someone tunes in to listen strictly on our behalf. It's amazing when you think about it that way.
The interview also features a ton of the art from the book!
Other exciting news:
• The book will be in Canadian bookstores, and presumably Amazon.ca, before Christmas. (Canadian bookstores: watch for info forthcoming from your PGC rep.)
• We have had some tentative interest from foreign publishers in publishing translated editions of MOD internationally. We are moving to secure additional rights from our authors in order to further pursue these opportunities.
• The ebook edition is now available in the Barnes & Noble NOOKstore.
• We have been listed in the Boing Boing 2010 Gift Guide as one of Cory's "Fiction" picks! Thanks, Cory!
• Our editor Ryan has a new book of Dinosaur Comics out!
• Everybody reading this gets a hug
Podcast Episodes 23 Nov 2010 11:17 pm
"EXHAUSTION FROM HAVING SEX WITH A MINOR," by Yahtzee Croshaw. Read by the author.
"The job of Prime Minister is no job for a weakling," said Derek Fortham MP, eyes shining in the TV spotlight. "Centuries of British politics have shown us that. It's a job that calls upon all of a man's strength. It's a job for men who know their limitations. Men with perspective. With drive."

The audience was utterly silent, staring with goggle-eyed hero-worship as Fortham reached into his inside pocket and produced a white slip of paper, which he held between his first and second fingers and waved in time with his speech.

"I always keep my death prediction close to my heart. At the age of fifty-seven I will be knocked down by a car; that's what it says. I don't fear it. I'll never run from it. When I see that car coming, I will stand with feet firm. That's the kind of strong leadership this country needs."
Download the MP3 • Subscribe on iTunes
Direct podcast feed: http://feeds.feedburner.com/machineofpodcast
Ben "Yahtzee" Croshaw was born and raised in England but now lives in Australia. Primarily a gaming writer, he is responsible for the "Zero Punctuation" video reviews at The Escapist online magazine. His first novel, Mogworld
, has been published by Dark Horse Books. His personal site is fullyramblomatic.com.
In the book, Yahtzee's story is illustrated by Cameron Stewart!
Updates 10 Nov 2010 11:46 am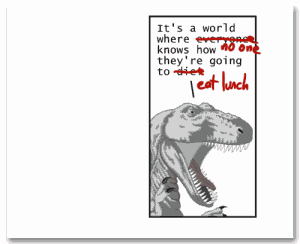 Today we've signed a deal that will bring Machine of Death into bookstores across the United States. We're talking Barnes & Noble, Borders, indies, airports — this deal will make it available to everyone. We are negotiating Canadian and UK distribution as well.
We couldn't have done it without you — this is the direct result of people in publishing waking up on October 26 and seeing something they didn't recognize do something they couldn't believe. They Googled us. They emailed us. They called us. "What are you doing?" they said, or "We get what you're doing, and it's amazing." This was invariably followed up with "I've ordered my copy."
And sometimes, a week later, followed up again with "This book is incredible."
And we just smiled and said "We know! That's the point!"
In the next few weeks we'll be focusing on making sure the bookstores who stock our book don't regret their decision. But there's one very important, very mechanical task in front of us right now — one you can help with!
We're going back to the press with a new printing of the book, and we want to take this opportunity to fix the handful of typos that crept into the manuscript. After the jump we've compiled a list of the ones we've found so far. (Some of these have already been fixed in the digital versions.) We want the next printing to be perfect! So please leave a comment with any others we may have missed, and we'll update the post accordingly. We only have a day or so to make these changes, so we're hoping you can help — if nothing else, verify that we've caught everything!
UPDATE: Thanks so much for your eagle eyes! We've made notations as to the corrections in the comments. We are preparing your prizes this weekend and will be announcing them soon!
if you find any more errors for Pete's sake keep them to yourself we have a lot of books on the press now

Continue Reading »
Podcast Episodes 09 Nov 2010 04:05 pm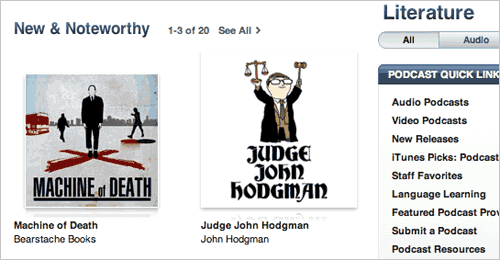 Hey! iTunes likes us! Neat!
"FUDGE," by Kit Yona. Read by the author.
As he watched, two girls in their early teens wheeled away from the front of the line. The shorter of the two was consumed by high-pitched giggles, but her wispy friend was ghost-white. As they moved past, the giggler took a deep breath and said, "Oh, Robin! Don't take it so seriously! It's probably not true!"

Rick watched and saw the other knuckle at her eyes. "But what if it is?" she said. "I can't believe he'd…" Then they drifted out of his earshot.

When he looked back at the corner, someone else was walking his way, a tall guy about his age. When he saw Rick staring he broke into a sheepish grin and shrugged, waving a slip of paper in a matter-of-fact way. "Fifth time I've taken the test, fifth time I've gotten this answer." His smile vanished, and his face clouded over. "Still not quite sure what it means, you know?" 
Download the MP3 • Subscribe on iTunes
Direct podcast feed: http://feeds.feedburner.com/machineofpodcast
Living deep in the savage lands known as the 'Dirty Jerz,' Kit Yona runs an auto salvage yard, adds income via poker whenever possible and plays rugby with an enthusiasm that far outstrips any athleticism he might believe he possesses. In his lack of spare time Kit edits and writes for the fantasy book review site The Griffin or the Agate to justify the time spent getting his Masters degree in English. He blames his appearance in this tome on his beautiful muse of a wife, Laura. He can be tormented/harassed/contacted at jydog1 at gmail dot com.
In the book, Kit's story is illustrated by Vera Brosgol!